GORAKHPUR: After the Lucknow University (LU), the DDU Gorakhpur University has entered the league of top state universities of the country by securing A++ grade from the National Assessment and Accreditation Council (NAAC).
It has also become the first university of the state to get a score of 3.78.
Expressing happiness over the development, Governor Anandiben Patel, who is also the Chancellor of state universities, said: "It is a matter of pride that after LU, DDU Gorakhpur University has achieved the top grade."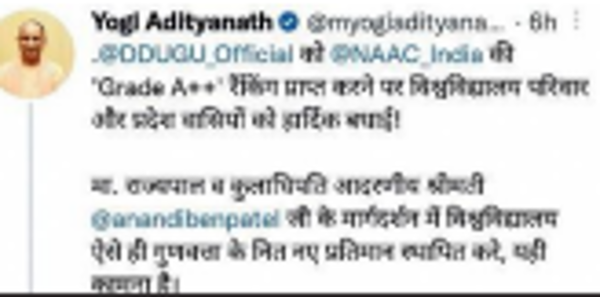 The governor said: "NAAC assesses the overall system of a university and not only focuses on teaching in higher education institutions."
Exhorting all universities to strive for best grades, Patel said, "Universities should work on improving the quality of teaching and administrative systems to achieve the highest level."
Chief Minister Yogi Adityanath congratulated the DDU Gorakhpur University and the people of the state on the achievement.
"Under the guidance of the Governor and chancellor of universities, Anandiben Patel, it is my wish that the university establishes new standards of quality," he said. Vice-chancellor of DDU Gorakhpur University, Rajesh Singh, said NAAC had informed the university about the achievement through an e-mail on Tuesday.
The A++ grade will be valid for five years. In July, a six-member NAAC team visited the university for assessment.