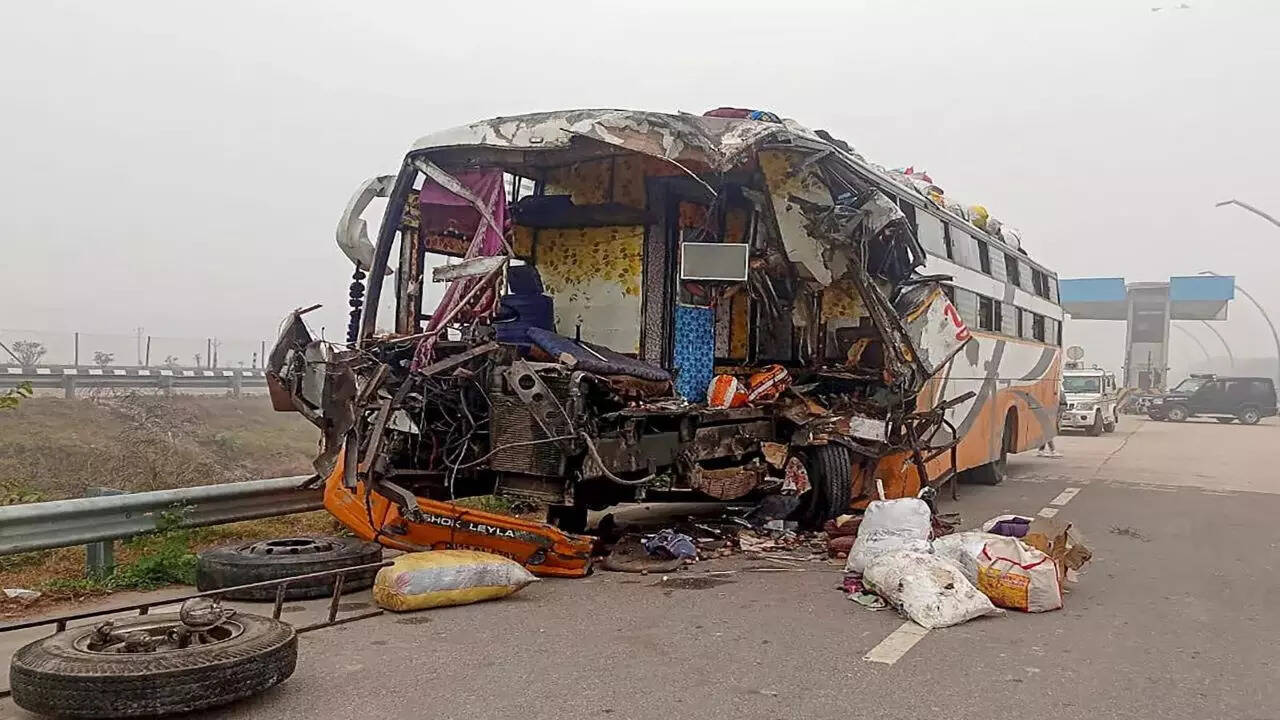 KANPUR: Seven people were killed and 27 injured in two separate accidents due to heavy fog on Agra-Lucknow Expressway on Sunday evening and Monday morning. While three passengers were killed in Kannauj when a passenger bus fell off the expresway, four passengers were killed in Unnao when a bus hit a DCM truck.
Three passengers were killed while 17 injured when a private bus fell off the Agra-Lucknow Expressway in Kannauj late Sunday night. Police said the bus was plying between Delhi and Sultanpur and overturned and fell off the eway apparently due to heavy fog. Six of the injured persons were admitted to Kannauj's Tirwa Medical College in a critical condition.
Taking note of the incident, CM Yogi Adityanath directed officials to supervise the rescue work and ensure best possible medical treatment for the injured. He also offered his condolences for those who died in the accident.
According to the police, a private bus was going from Delhi to Sultanpur when at around 9.30 pm on Sunday night, due to dense fog, it went out of control, overturned and fell off the eway near Bansuria village.
Three people died on the spot. SP Kunwar Anupam Singh said, "The bus carrying 30 passengers was coming from Anand Vihar in Delhi. Six of the passengers were seriously injured in the accident and they have been admitted to Tirwa Medical College in the district." The deceased have been identified as Anita Bajpai (50), Sanjana (25) and Devansh (11), all residents of Rae Bareli, he said, adding, "The families of the deceased as well as the injured persons were informed about the accident. Bodies have been shifted to the mortuary.
In Unnao, four persons including two Nepalese nationals were killed while 10 injured when a bus rammed into a DCM truck on AgraLucknow expressway in Unnao on Monday morning. The deceased included three men and a woman. The accident took place near Auras Toll Plaza around 5.30 am.
Police said poor visibility owing to heavy fog possibly led to the incident. Of the 10 people injured in accident, nine were rushed to Trauma Centre in Lucknow for treatment while one was admitted to Unnao district hospital. DM Apoorva Dubey, ASP and other officers rushed to the spot and supervised rescue work.