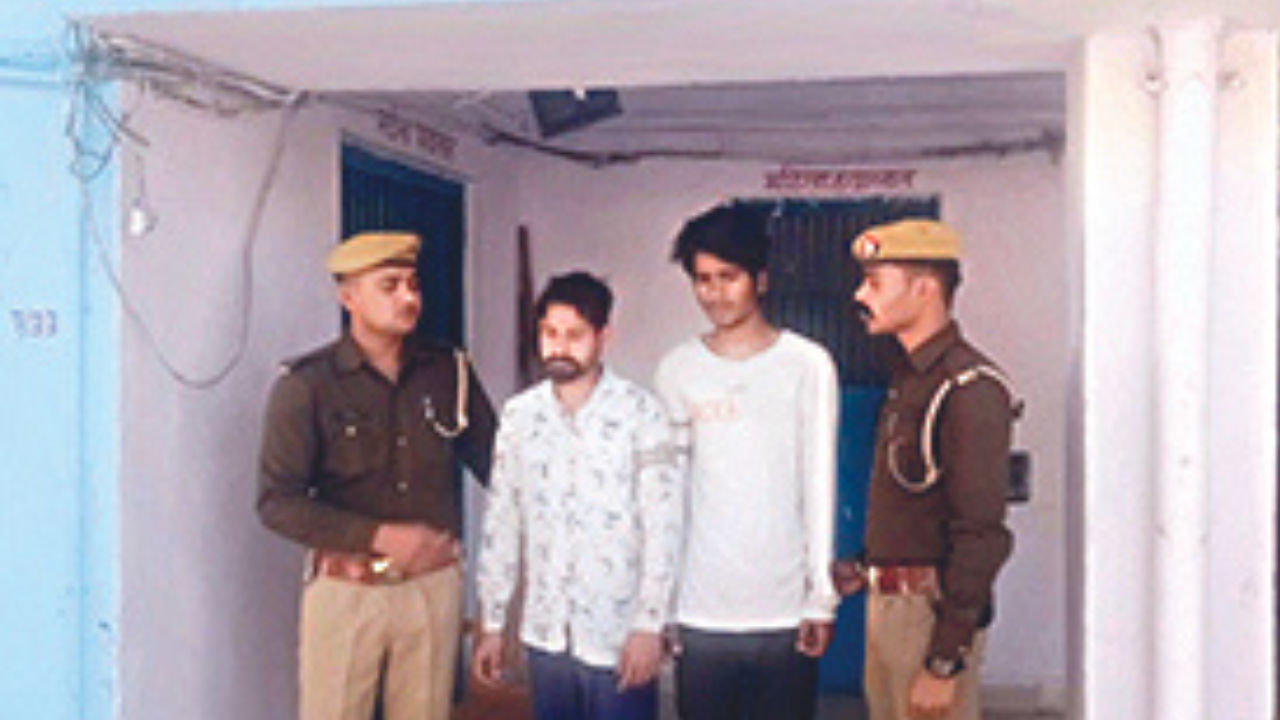 AGRA: Luv Kumar, 20, a BA first-year student whose partially burnt body was found stuffed in a sack around 5 km away from his house on Thursday, was allegedly killed by two of his friends after he asked one of the accused to return Rs 10,000 that he had lent him.
The incident took place under Fatehpur Sikri police limits. Police said both the accused — Rajesh Kumar (20) and Monti (19) — have been arrested. The accused are residents of Baseri Sikander village and are cousins. The knife used to slit the victim's throat was recovered from them. Station house officer (SHO) of Fatehpur Sikri, Balwan Singh, said, "We arrested the accused while they were attempting to flee from Agra to Rajasthan's Bharatpur. They have confessed to their crime. An FIR has been registered against them under IPC section 302 (murder), 120 B (criminal conspiracy) and 201 (causing disappearance of evidence of offence). Following court orders, they have been sent to jail."
Deputy commissioner of police (DCP) Sonam Kumar said, "Luv was known to both the accused. Rajesh and Luv studied in the same school. Two months ago, Rajesh borrowed Rs 10,000 from Luv, who had been persistently asking him to return his money for the last few days. On Thursday morning, Rajesh called Luv to their field on the pretext of returning his money. Rajesh and his cousin Monti offered alcohol to Luv when he reached the spot. After drinking, they both pushed him onto the ground, and Rajesh attacked him with a knife and slit his throat as per their plan. Luv died on the spot," officer said.
According to the victim's family, Luv had left for college around 8 am on Thursday. "Around 11.40am, we received a call from an unknown person informing us that my son had been kidnapped. The call was from my son's phone number. The kidnapper demanded Rs 10 lakh ransom for his release, and threatened us not to inform the police. I tried calling but the phone was soon switched off. Concerned about the safety of my son and left with no other option, I informed the cops. Luv's body was completely burnt and I could recognise him from his clothes," said Kumar's father, Ram Parsad, an auto-rickshaw driver. ASP Rajeev Sirohi said the ransom call was apparently made to mislead the police investigation.
He said, "Tracing the last location of the victim's mobile phone, the body was spotted in a ditch along the Agra-Jaipur highway. The two accused stuffed the victim's body in a sack, dumped it near the highway and set it on fire."
Meanwhile, a delegation of Samajwadi Party workers met the victim's father on Friday. The SP workers, along with locals, also staged a protest demanding compensation to the family of the deceased. After getting assurance from local authorities, the hour-long protest was called off.