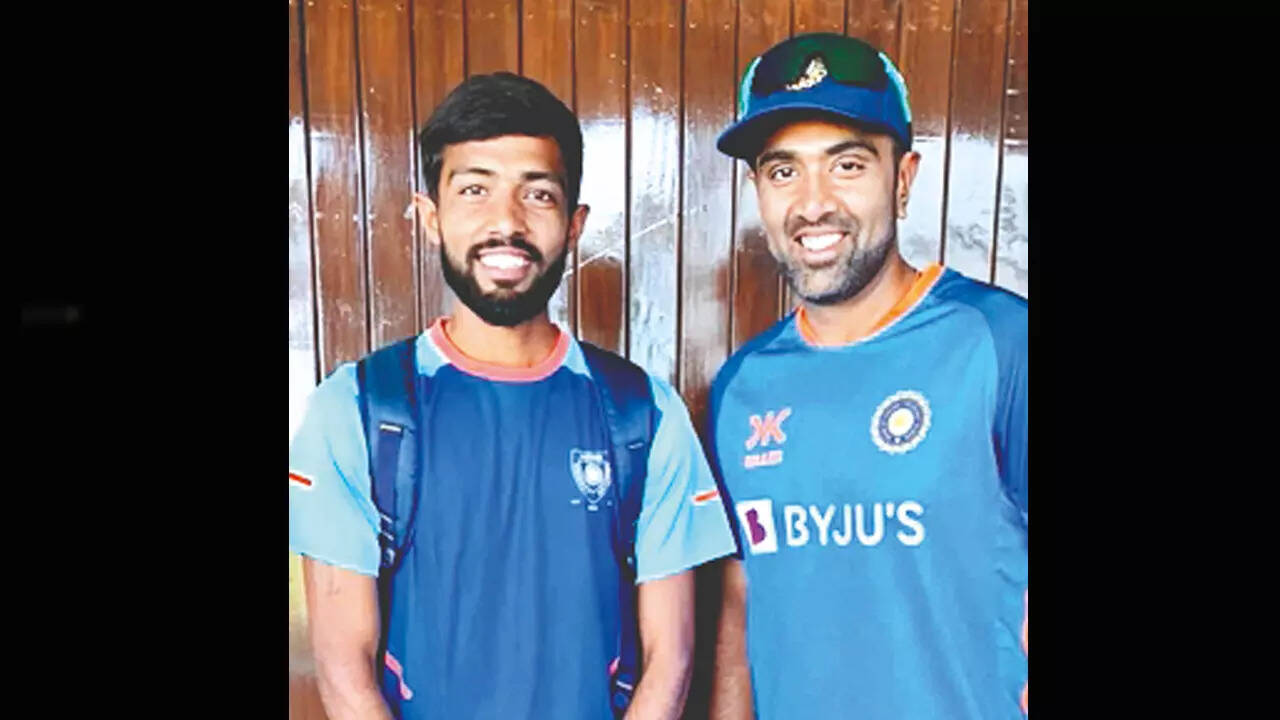 VADODARA: India spinner Ravichandran Ashwin came face to face with 'Ashwin' from Gujarat on Tuesday. Baroda cricketer Mahesh Pithiya, who is popularly known as duplicate Ashwin, met his idol in Nagpur ahead of the first Test match between India and Australia.
"I was thrilled as Ashwin sir recognized me and also waved. I walked up to him and excitedly narrated how his bowling performances have helped me learn a lot. He was his usual calm and asked me a few questions about my bowling style and practice," Mahesh told TOI over the phone from Nagpur.
The 21-year-old was hanging out at the stadium in Nagpur on Tuesday hoping to meet Ashwin. "Nathan Lyon inquired about it and then took me to meet Ashwin," he added.
"Ashwin sir said that he knows about me, said a few words of appreciation and asked me to keep practicing. I won't forget this moment as I actually met someone I have been idolizing for years. Even
Virat Kohli
spotted me on the ground and waved affectionately," Mahesh, who got Steve Smith out a few times in the nets, said. When asked if there was any conversation on Australian batsmen's weaknesses, Mahesh smiled and refused to comment.
It was exactly a decade ago that Mahesh saw R Ashwin bowl against the West Indian team live on television. "Now I would see him perform from the stands," he said.
Mahesh hit the headlines recently when he was invited by the Australian team who saw his video and invited him to bowl them in the nets. Mahesh's stride, bowling action and release are very similar to that of Ashwin. A native of Junagadh and son of farm labourers, he moved to Vadodara in 2014 and joined Motibaug Cricket Club.
At one point, Mahesh had to work at a tea stall in Vadodara to make ends meet but he continued playing cricket with the support he got from his elder brother.
When the Australian team recently arrived in India for the Border Gavaskar Trophy, Mahesh's friend and throwdown specialist Pritesh Joshi sent his bowling video to the Aussies who promptly called him to Bangalore for practice sessions.