DEHRADUN: Families in the ancient village of Haat in Chamoli district, barely 40km from the holy town of Joshimath, are living in constant fear. After Joshimath, they feel that their small village will start to "sink" too. And local villagers say that the "signs are ominous".
Haat traces its origin to Adi Shankaracharya, a great religious scholar and teacher, believed to have established the Laxmi Narayan temple here over a 1,000 years ago. The village is also locally called Shankaracharya's 'Chhoti Kashi'.
Historians say centuries ago, while travelling in the Himalayas, Shankaracharya established Haat, a village on the banks of the Alaknanda. In the hamlet, he established the Laxmi Narayan temple and settled a community of priests. In fact, this temple was the last stop for pilgrims en route to Badrinath.
Villagers from Harsari hamlet of Haat said their place was "doomed" ever since the 444 MW Vishnugad-Pipalkoti hydro power project of Tehri Hydro Development Corporation Limited (THDC) started in the Garhwal Himalayas in 2006. In fact, 39% of the project had been completed by June 2022.
Rajendera Pokhriyal, a local resident, said, "On New Year's day, our village was shaken by blasting for the underground power project that is underway. The government must immediately intervene and prevent this reckless practice and digging of tunnels here."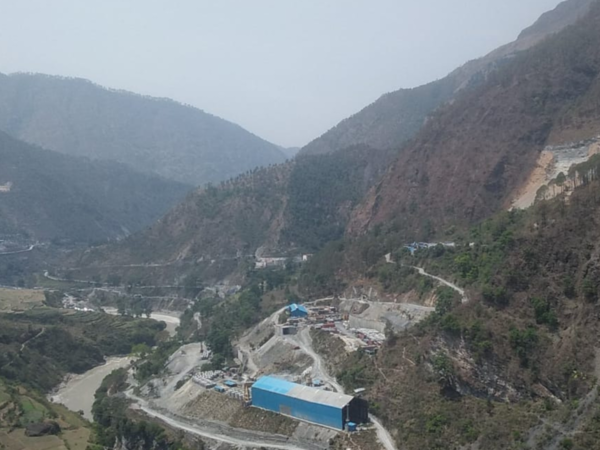 Pokhriyal added: "If the NTPC project can be stopped in Joshimath, why can't a similar decision be taken regarding the project near our village, too, which is causing similar havoc?"
The hydropower project is already under the scanner of the World Bank as it has funded it and the archaeological site of Laxmi Narayan temple is under threat due to "muck dumping by the hydro power plant", villagers pointed out. The Uttarakhand high court had "banned" dumping of muck in its December hearing of the case.
In a similar vein, Pankaj Hatwal, another villager, said, "The condition is not good. Most of the families were 'resettled' earlier. But, 19 families — newborn and the elderly — still reside here. It will take only a few seconds for our village to collapse, given the pace of blasting and rampant excavation. A huge powerhouse is also being built under our village and they are mainly using the blasting technique."
Before the shifting of families, Haat had a population of about 1,000. Nearly 185 families lived there and 112 were moved out for the hydropower project.
A spokesperson of the hydropower project, on Friday, said, "We are following all the norms and guidelines in this project very strictly. And this project is being monitored regularly by the World Bank. There is no question of conducting any work in this project without checks."