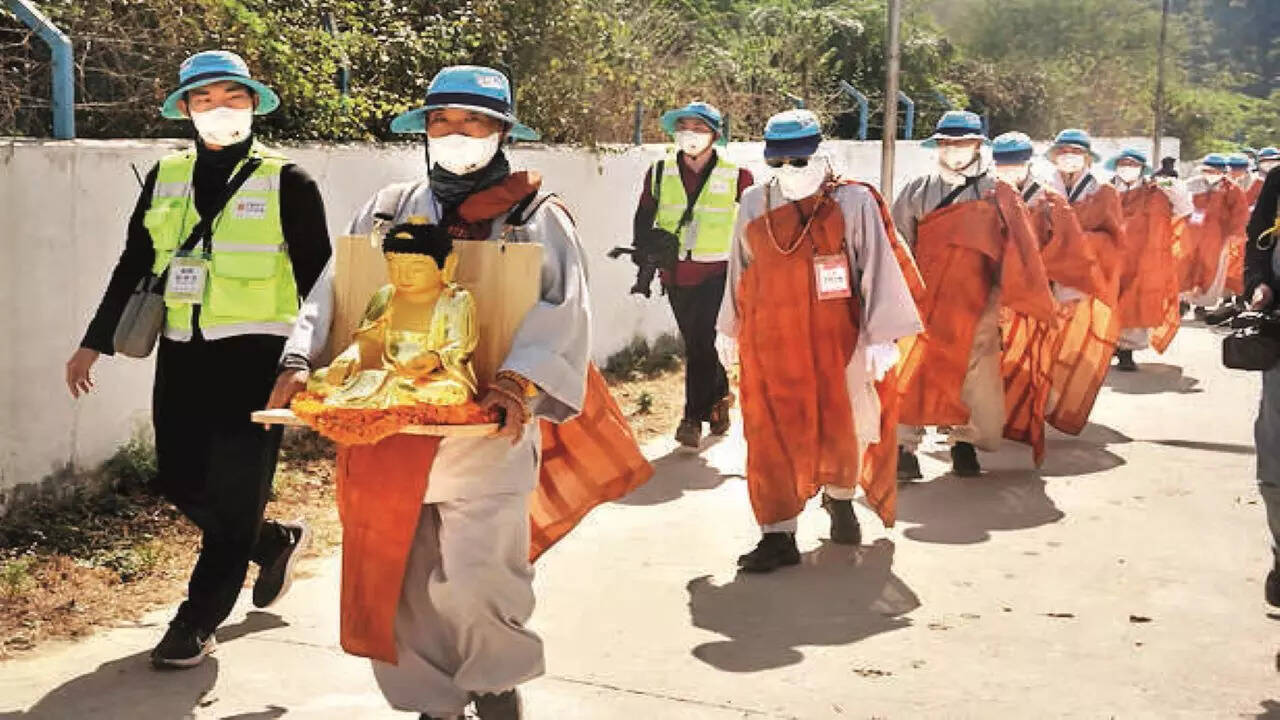 VARANASI: A group of 108 Buddhist monks from South Korea on Saturday started a walking pilgrimage of over 1,100 kilometres in the next 43 days from Sarnath to trace the
Buddha
's footsteps and life journey in India. The walking pilgrimage will culminate at Shravasti after traversing through Nepal. The pilgrimage also marks 50 years of diplomatic relations between the two countries.
This innovative event is being organized with the mutual cooperation of both the countries to further strengthen the mutual cooperation and friendship between the two countries and to organize prayer for mutual peace between the two countries. The group of monks will travel on foot along the entire Buddhist circuit including Lumbini, Nepal, the birthplace of Lord Buddha, to Kushinagar, the place of Mahaparinirvana.
This pilgrimage started with a prayer at the Dhammek stupa in Sarnath, where Biddha had preached his first sermons. The Uttar Pradesh Tourism department gave a grand welcome to the Korean Buddhist monks with a 108-meter Dhammadhvaja. The event was attended by the UP Ayush Minister, Dayashankar Mishra 'Dayalu', ambassador of the Republic of Korea to India, Chang Jae-bok and others.
Speaking on the occasion, the minister said that Lord Gautam Buddha had started his Dhamma Yatra from Sarnath by giving his first sermons and turning the Dharma Chakra. "I congratulate you for starting your 43-day pilgrimage from this holy place," he said, adding that the padayatra is being organized to strengthen the relations between the two countries on the occasion of the completion of half a century of diplomatic relations between India and South Korea. When saints make efforts to deepen the relations, then its meaning becomes divine. Citing the history, he said that the origin of Korea's Buddhist Jogye Sangha has its roots in India.
He said that India's Buddhist teacher Bodhidhamma took the Buddha's Dhamma to China. The Buddha's meditation tradition entered Korea through his disciple Huineng in China. "Sravasti, the origin of your meditation tradition Seon, is where your journey is coming to an end. In this sense you have not come abroad but to the home of your spiritual ancestors", he said.
According to him, the Sangwol Society India Pilgrimage is the organizer of this pilgrimage. After Sarnath, the next stop of this 43-day Dhamma Yatra would be Bodhgaya in Bihar. The Yatra will re-enter Uttar Pradesh via Kushinagar after visiting Nalanda, Rajgir, Griddhakuta mountain, Vaishali in Bihar. From Kushinagar, the yatra will move to the birth place of Buddha, Lumbini in Nepal. The pilgrimage will complete in Shravasti after visiting Kapilvastu in Uttar Pradesh.