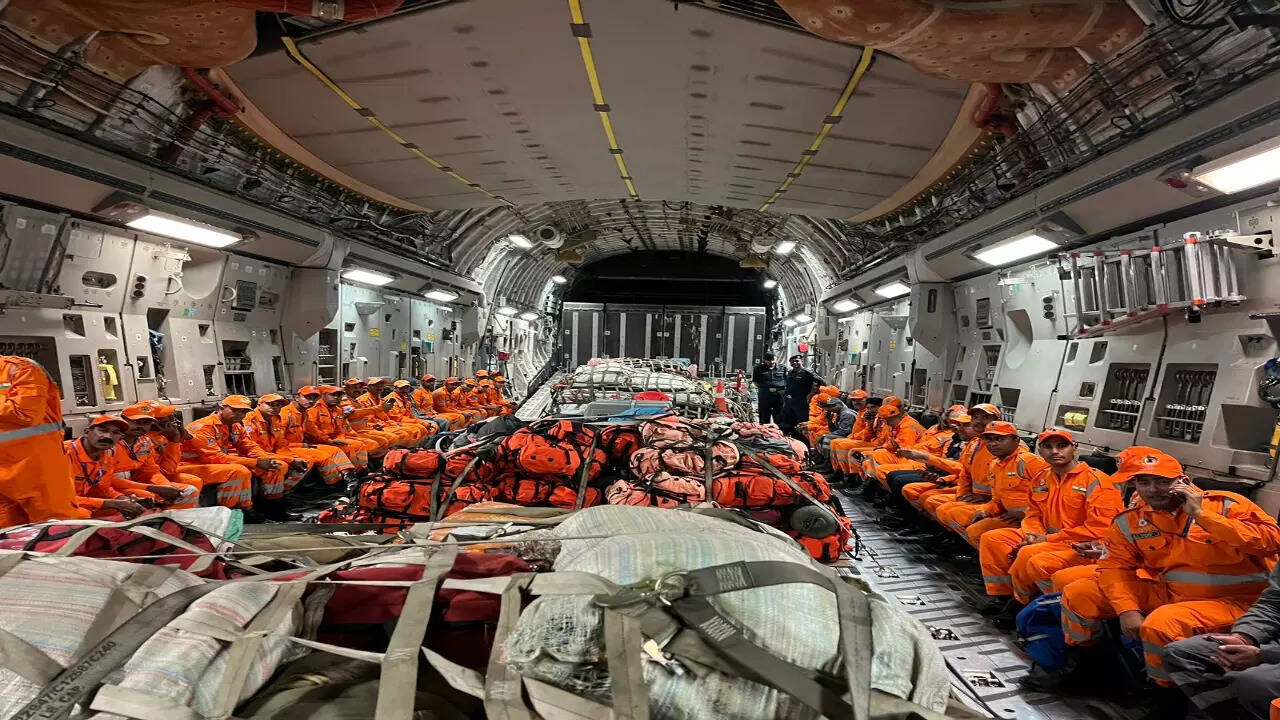 NEW DELHI: India on Tuesday dispatched the first batch of earthquake relief material to Turkey after multiple earthquakes jolted the middle-eastern nation on Monday.
Also See:
Turkey Earthquake Live Updates
An expert National Disaster Response Force (NDRF) search and rescue team along with highly-skilled dog squads departed for Turkey on an Indian Air Force (IAF) aircraft. In the first batch, India has sent medical supplies, advanced drilling equipment and other crucial tools required for aid-related efforts.
Deepak Talwar, deputy commandant, NDRF is leading the first team from India to Turkey. "This team consists of 47 NDRF personnel and three senior officers to perform recovery and response work as per the United Nations guidelines. The team is going as per the composition prescribed by NDRF and accordingly, we are moving. Medical components are also there and so is paramedic staff," he said.
"India's Humanitarian Assistance and Disaster Relief (HADR) capabilities in action. The 1st batch of earthquake relief material leaves for Turkey, along with NDRF search and rescue teams, specially trained dog squads, medical supplies, drilling machines and other necessary equipment," Arindam Bagchi, ministry of external affairs (MEA) spokesperson tweeted.
India's Humanitarian Assistance and Disaster Relief (HADR) capabilites in action.The 1st batch of earthquake reli… https://t.co/FaE4AoavZg

— Arindam Bagchi (@MEAIndia) 1675726068000
The government on Monday decided to dispatch search and rescue teams of the NDRF, medical teams and relief material to earthquake-hit Turkey following Prime Minister Narendra Modi's instructions to offer all possible assistance to the country.
"Medical teams are also being readied with trained doctors and paramedics with essential medicines. Relief material will be dispatched in coordination with the Turkish government and the Indian embassy in Ankara and Consulate General office in Istanbul," the PMO said.
The death toll in Turkey and Syria rose to over 4,000 after earthquakes, the largest of which measured at a massive 7.8-magnitude, jolted the two nations. More than 15,000 people have so far been reported injured in Turkey and Syria.