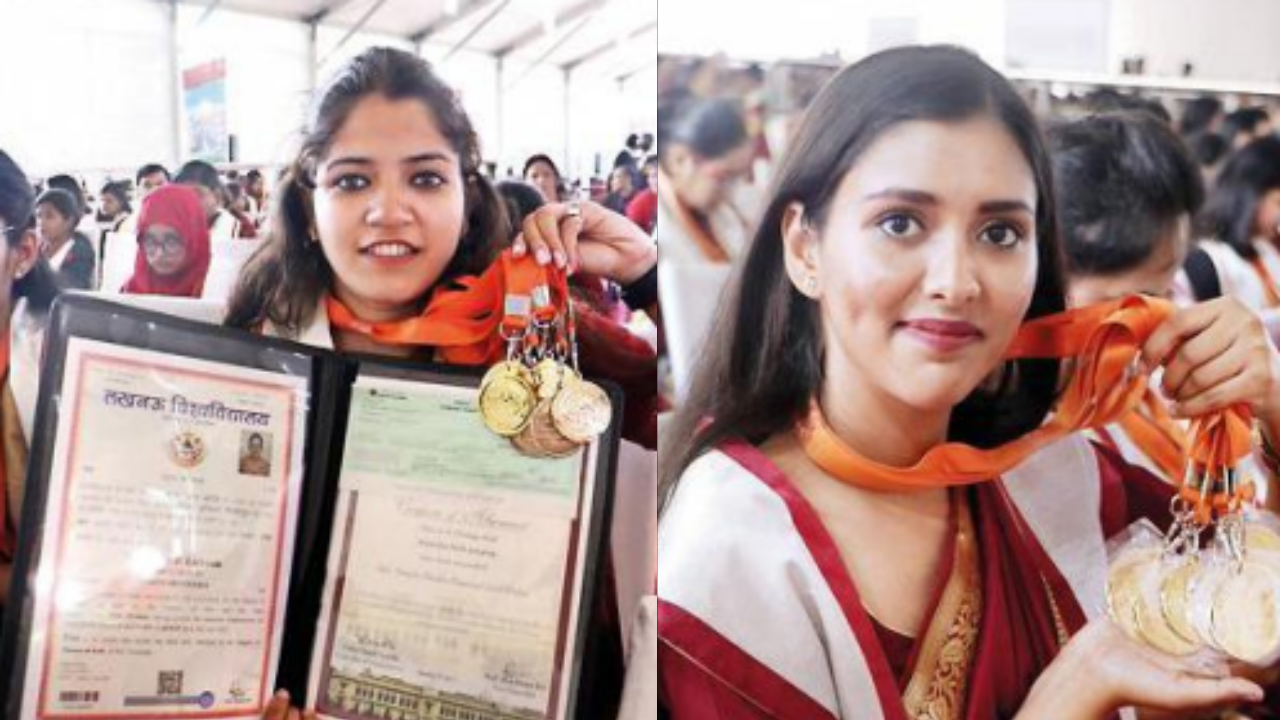 LUCKNOW: "We are special as we will be called the first graduating batch of A++ Lucknow University," they hooted in excitement while posing for pictures during their special day. Occupying every inch of the beautifully decorated convocation stage set up at LU's second campus, the meritorious students shared their success mantras and emotions during the convocation ceremony held on Saturday.
"For me, LU is not just a university but a transformation centre that has not only changed me academically but has also built leadership qualities by giving me an opportunity to be part of events held at the campus," said MA (AIH) student Amrita Srivastava, winner of nine gold medals.
She dedicated the medals to her mother Kanchan Srivastava, who passed away in 2018. For all my juniors I have just one success tip: be consistent with everything you do. I studied for six hours daily, won medals and cracked the NET exam too.
An MSc (mathematics) student Pragya Yadav, who won seven gold medals, said, "We are really fortunate that all medal winners were conferred medals from the stage and our convocation ceremony was conducted in such a grand way. We are the first graduating batch after LU got A++ which adds the cherry on the cake." Pragya wants to become an IAS officer.
Winner of eight gold medals, an MA student Aakansha Verma said, "Time management and attending regular classes were the two basics I followed to score highest in my course." She said winning medals made her happy but LU's announcement that all students will be given medals from the stage was something that made her happier as earlier only students who got LU constituted medals were conferred medals from the stage. "Students like me who have got sponsored despite winning so many medals were given medals at the department level." she said.
Similar sentiments were shared by law student Priyamvada Shukla, who too bagged eight medals.
"I am a student of Shri Jai Narain PG college and I am double happy as I have made both my college and the university proud by winning seven medals. I scored 89.09 % breaking the popular belief that in science, especially in physics mostly boys score high," said MSc (Physics) student, Nidhi Tiwari, who wants to become a professor.
Shambhavi Pandey, who won two gold medals in MA Anthropology, said she wants to pursue her passion which is 'development anthropology'. "I will take government exams in future, as I come from a family of government officers," she said. While, she dedicated the medals to her father, a former IPS Rajesh Pandey and said he has been her source of inspiration and whenever she got doubt, her father has steered her path.