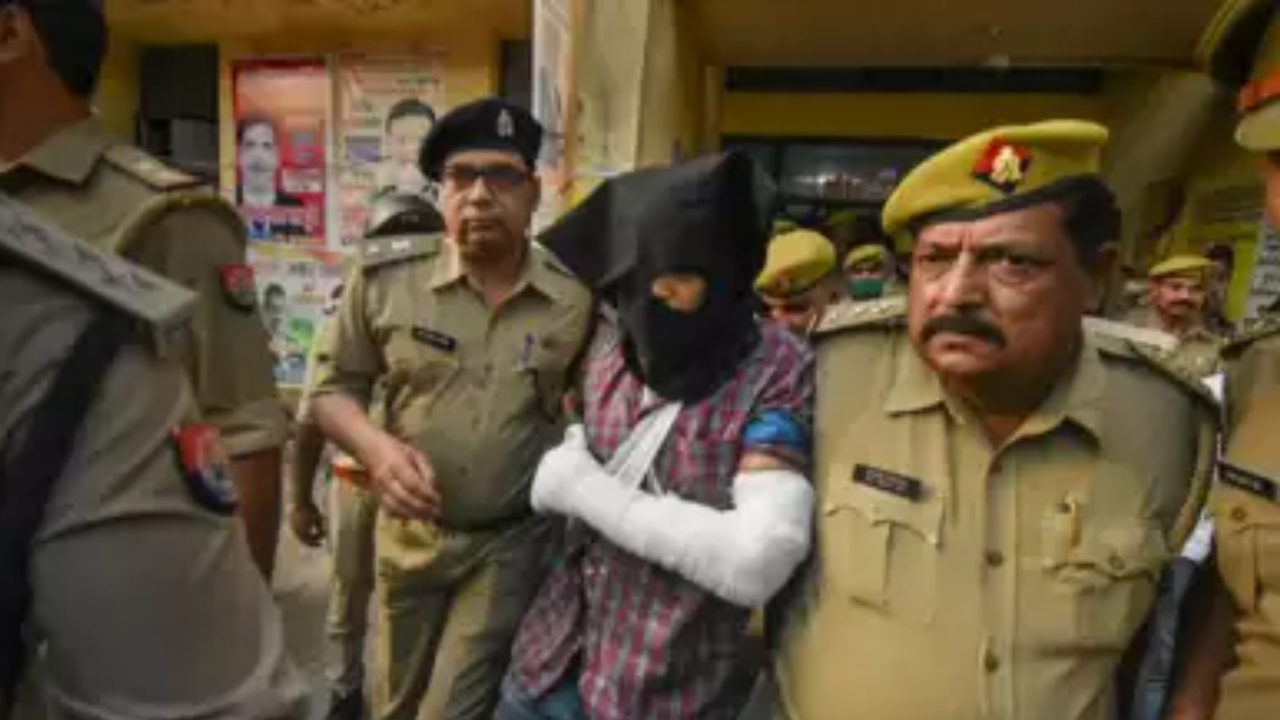 LUCKNOW: Ahmed Murtaza Abbasi, convicted in the Gorakhnath temple attack case in Gorakhpur, was sentenced to death by a special NIA-ATS court in Lucknow on Monday.
Murtaza was convicted by the court on charges of UAPA, waging war against the country and murderous attack. He was held guilty on Saturday.
Murtaza, a chemical engineering graduate from the Indian Institute of Technology Bombay who had worked in a top oil refinery in Jamnagar (Gujarat) before he became jobless and was allegedly radicalised, was present in the court, when the sentence was announced. He was also fined Rs 44,000 by the court.
The FIR in this connection was lodged by one Vinay Kumar Mishra with the Gorakhnath police station on April 4, 2022.
According to the FIR, Murtaza had entered the Gorakhnath temple premises on the day and attacked PAC constable Anil Paswan, who was posted at the temple for security, with a sharp-edged weapon.
When another PAC man rushed to Pawan's rescue, the accused also attacked him. Abbasi tried to snatch his rifle. He was later caught by the use of force.
Uttar Pradesh chief minister Yogi Adityanath had announced a reward of Rs 5 lakh each to PAC jawans Gopal Gaur and Anil Paswan, who had sustained injuries on their legs with a sickle on a fateful day.
They were admitted to the district hospital for their injuries.
According to the FIR, while being nabbed, the accused chanted religious slogans.
He was said to have been connected with a terror outfit. The investigation was conducted by ATS.
Deputy SP Sanjay Verma had filed the chargesheet in the case. The ATS produced Ahmed Murtaza Abbasi in the special court on April 25, 2022, in this case and also obtained remand.
A lawyer was engaged for Murtaza at the expense of the government.
After Murtaza's conviction, all attempts to contact his father Munir Abbasi, who is settled in Gorakhpur after his retirement from a private firm, went in vain.
However, just after Murtaza's arrest after the temple attack in April last year, he had told TOI that his son was mentally disturbed and was being treated by Mumbai-based psychiatrist Dr Nilesh Shah for schizophrenia since 2018.
Munir said all test reports and medical history of Murtaza had been submitted to the ATS.
Munir had told TOI that his son was mentally tortured and abused in his school and in the colony but was very good in his studies and made it to IIT-Bombay.
"We first got to know about his mental disorder when he joined an oil company in Jamnagar as a field officer. We were informed that Murtaza used to stay in his room for days without eating or interacting with others," Munir told TOI.
He was then taken to a psychiatrist who recommended him to Dr Nilesh Shah. The doctor examined him and diagnosed schizophrenia.
"Since then, we have never left him alone. We took him to Coimbatore where my father-in-law lives, and then to Hyderabad thinking it was the result of some evil spirit," he had added. Police had also claimed that his marriage lasted only for 15 days in 2018.
"Nobody in the area was invited, not even his own uncle who is a famous surgeon in the area," a police official told TOI.
Munir had said that they wanted to leave Gorakhpur and settle near a village in Nepal.
"We once visited Saudi Arabia for religious purposes, besides that Murtaza never visited any foreign country," he claimed.
The ATS sleuths, meanwhile, had claimed that the data extracted from Murtaza's mobile, laptop, cloud and other electronic devices and their analysis from CFSL, New Delhi and forensic university, Gandhinagar, proved that he was highly radicalised and believed in the ideology of ISIS.
The transactions conducted by Murtaza had also revealed that he used pay-pal and was even financing al-Hawl camp of ISIS fighters and sympathizers and preparing to leave for Syria.
The ATS in its chargesheet had also mentioned that Murtaza was influenced by ISIS's lone-wolf attack style and hence had tried to attack the Gorakhpur temple.
Watch
Gorakhnath temple attack: Ahmed Murtaza sentenced to death