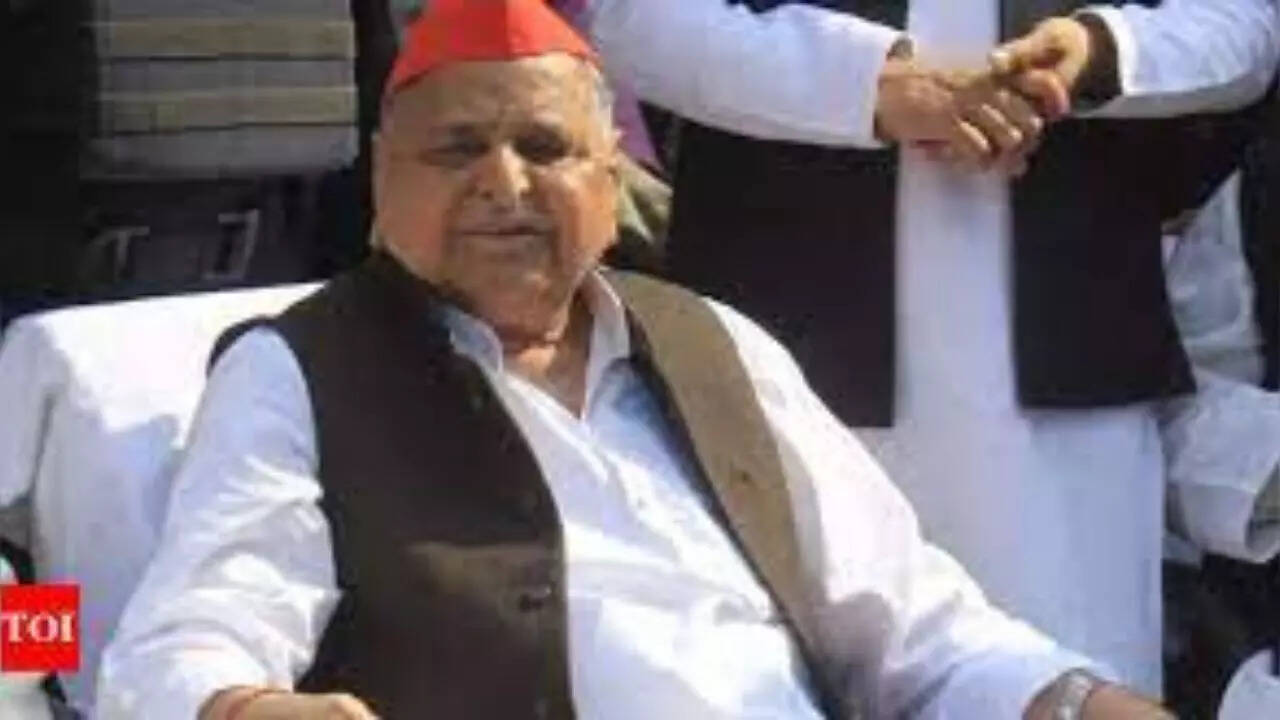 LUCKNOW: As
Samajwadi Party
finds itself in the middle of a controversy over its reservation to some verses of Goswami Tulsidas' Ramcharitmanas, party founder
Mulayam Singh Yadav
seems to have found a new avatar among partymen.
In an aarti, a video of which was released by party chief
Akhilesh Yadav
recently, "Netaji" is referred to as Ram by his partymen and equated to
Brahma
,
Vishnu
and Shiva.
The 5:5-minute-long aarti, written and sung by ex-MLC Kashi Nath Yadav – who is a known Birha (an ethnic Bhojpuri folk genre of Ahir communities) singer and working president of the party's cultural cell – begins with "Jai ho Netaji ki jai, bhage darr aur bhay, jai ho Neta ji ki jai… (Hail Mulayam who can scare away everyone's fears)".
In one of the verses in the aarti, Kashi Nath has referred to Mulayam as Ram, Krishna and Narayan, "Gita tum, aur tum Ramayan, Ram, Krishna tum, tum hi Narayan (You are like Gita, and the sacred Ramayana, you are Ram, Krishna and Narayan)," the verse says.
Another couplet in the aarti goes on to compare the SP founder with incarnations of god. "Rachna mein Brahma se aage, Vishnu jas paalan me laage, rann me Shiv sa parlay (He is ahead of Brahma – the creator, and groom people like Vishnu and for his adversaries he can spell doom that followed when Lord Shiva got angry)," it says.
"The basic premise of this aarti is that someone born as a human can also end up becoming a God. Ram was born to Dashrath and went on to become Lord Ram. Netaji too went on to do so much for the people that he was God for lakhs of people whom he provided with basic needs of life through his political career," Kashi Nath Yadav said talking to TOI on Tuesday.
A native of Ghazipur, Kashi Nath became a BSP MLC in 1994 and was re-elected as a member of the Council in 2000 and 2006 as an SP candidate. He had recorded innumerable Birha songs in the 1990s with top cassette labels of the country and many of his songs on YouTube have had lakhs of views. He told TOI that the idea of writing an aarti for Mulayam was his own. "I wrote it and then got it recorded at a well-known recording studio in Mumbai. The music for the aarti was composed by Naushad Ali who also directed the video, most of which was shot in Janeshwar Mishra Park in Lucknow," he said.
The song on Akhilesh, which was released along with the aarti, refers to the SP president as "Chhotey Netaji (Mulayam Junior)". "Netaji sa chehra inka, dekho tasveer ko. Lohia si soch, dekh garibi ke pir ko. Jale agni jwala sa, vijeta hai yaaro (He resembles Mulayam in looks and thinks for the poor like Lohia)," it says. In the song, Kashi Nath compares Akhilesh to Bhishma and Karna, and describes him as a "divya desh premi (diehard patriot)."