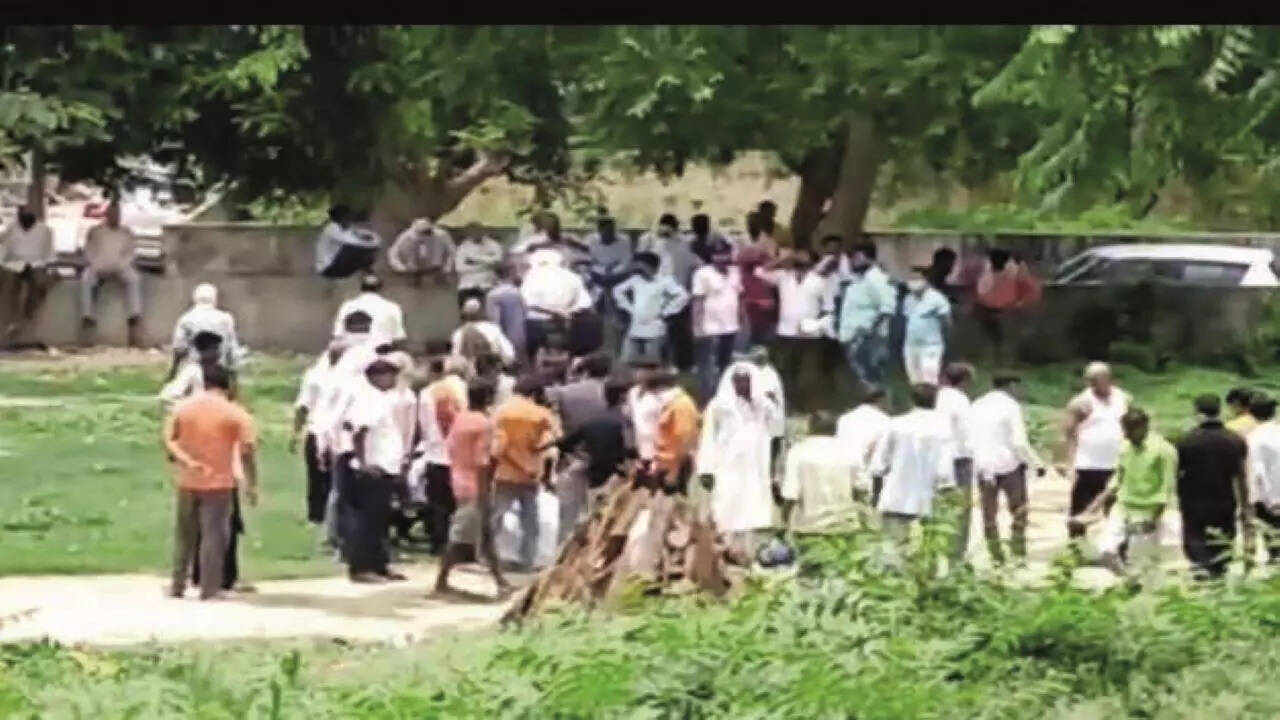 LUCKNOW: Tension prevailed in Jankipuram on Monday when residents stopped people from the nearby Paharpur village from using an open ground in the vicinity for burying the body of a villager who died in the wee hours. As villagers refused to leave, there was a heated exchange between the two groups and Gudamba police had to intervene to bring the situation under control.
Around 700 sqmt area of a 2,000 sqmt open ground is being used for decades as a cremation ground and graveyard by villagers.
Locals said that the problem persists since 2002 when they moved into their houses in the residential area developed by the Lucknow Development Authority. They said that the LDA then told them that a park will be developed in the ground and took 10% additional money to develop the open ground into a park, which never happened. The LDA kept them in the dark about the fact that the villagers use a part of the ground for cremation and burial.
Residents also said that the LDA has not shifted the cremation and burial ground from the area despite a high court order asking the authority to find a solution because the sight of funerals taking place daily is bad for the mental health of the locals. The smoke from the pyres also causes air pollution.
A resident, Brajesh Kumar Gupta filed a public interest litigation (PIL) seeking to shift the cremation site and graveyard to another place. On this, Allahabad High Court's Lucknow bench on January 31 asked LDA to find a solution for the issue, as sector-J residents are literally inhaling the smoke of cremated bodies.
Another resident, Amrendra Dixit said, "Around 300 people live in our area and every alternate day we have to face the foul smell of dead bodies and smoke emanating from last rites. It is like living in hell. Because of this my parents went back to our ancestral village in Sitapur. The burning of bodies has taken a toll on my six-year-old son's mental health."
Vice-chairperson of Jan Kalyan Mahasamiti Vivek Sharma said, "Even after the court's order, in just the past 10 days seven bodies were cremated here. LDA is not bothered to find any solution."
An LDA officer said, "There is no provision for shifting and making of cremation sites by any department or LDA. It can be shifted only by mutual understanding from both parties."
Additional secretary, LDA, Gyanendra Verma, told TOI: "The residents were informed about the cremation ground in the vicinity — the same has been mentioned in the map. I'm not well versed with the court order, therefore zonal officer Navneet Sharma will be able to share more updates on the matter."
TOI made several attempts to contact executive engineer Navneet Sharma but he did not respond.