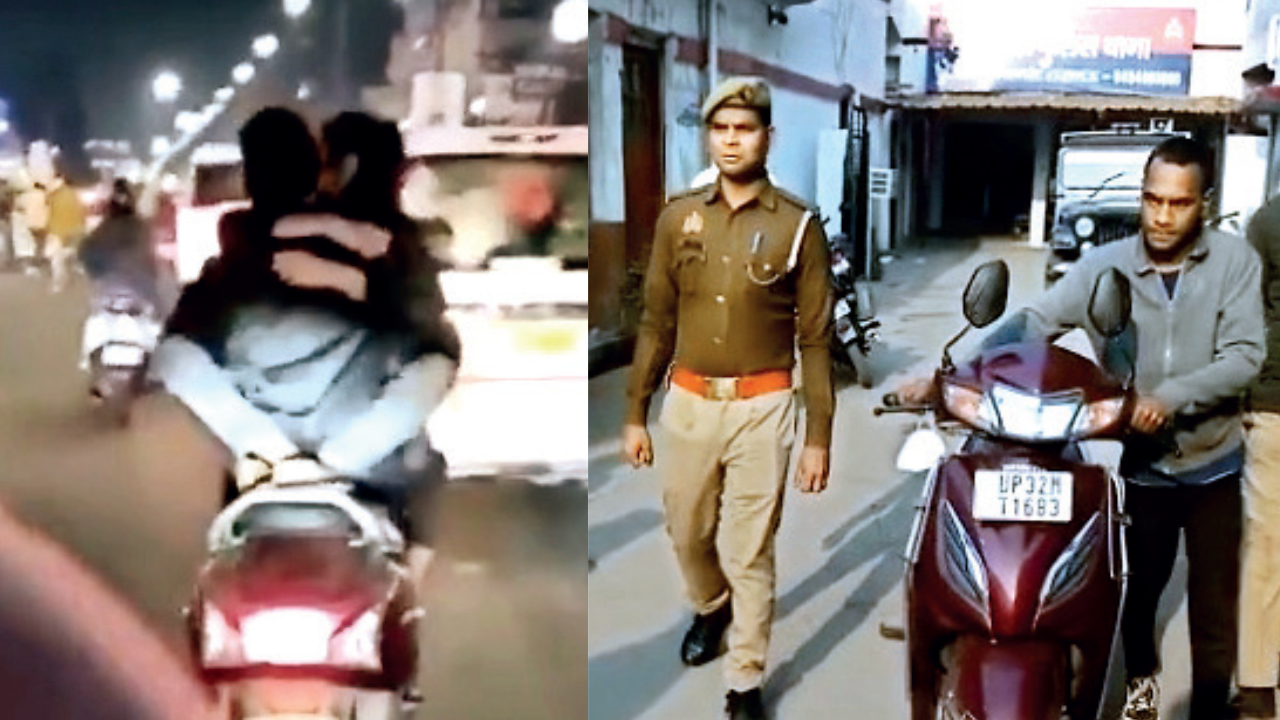 LUCKNOW: A young couple's 'khullam khulla' love story on a Scooty in the heart of the city ended in the police lockup. While the boy was arrested for reckless driving and obscenity in public, the girl was let off for being a minor.
The lovebirds, perhaps enacting the scene from Tom Cruise-Cameron Diaz starrer 'Knight and Day', exhibited their romance on the moving two-wheeler through the crowded Hazratganj road on January 15 evening. While the youth drove the vehicle, his minor girlfriend sat cross-legged with arms around him. As the duo dangerously made their way in full public view, a commuter shot the video of their 'kissing act' and posted it online, tagging the Lucknow Police. It evoked a strong response with social media users asking for strict action against their reckless act.
On Wednesday morning, taking cognizance, Lucknow Police arrested Vicky Sharma, 23, from his home. He has been booked for rash driving and display of obscenity in a public place. The girl was let off with a warning as she turned out to be a minor. Vicky owns a small garment shop and also arranges for DJ music in weddings. Additional deputy commissioner, Rajesh Srivastava, said the video was shot by a person travelling in a car behind the couple. "The 14-second clip showed the girl sitting cross-legged on the seat of a two-wheeler and hugging the rider, who was wearing a black jacket. She then grabbed his neck and kissed him. Both were without helmets," said Srivastava.
Srivastava added that based on surveillance and CCTV footage, the rider was identified as Vicky Sharma, a resident of Chinhat. "Vicky was arrested from his residence on Wednesday morning and booked under the charges of obscene acts (Sec 294) and rash driving (Sec 279) of the Indian Penal Code," the ADC said. The officer added that the girl is a student of Class 12. Police have appealed to citizens not to indulge in such acts risking their lives and of others on the road.