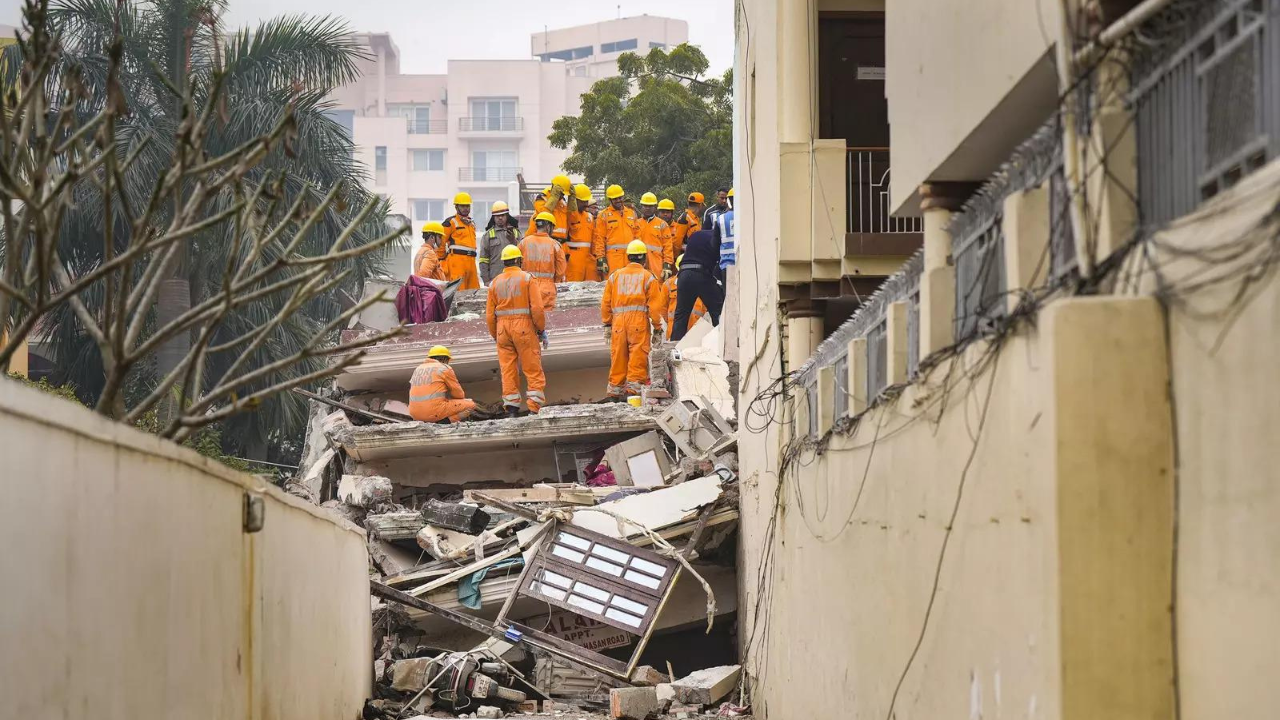 By Himanshu Singh
LUCKNOW: Lessons learnt on earthquake safety through a popular cartoon show helped six-year-old Mustafa protect himself when the five-storey Alaya Apartments suddenly collapsed in Lucknow on Tuesday evening.
Mustafa, who is among 14 survivors, is currently under treatment at the SPM Civil Hospital and is said to be out of danger.
Unfortunately, his mother, Uzma Haider, and grandmother, Begum Haider, could not be saved.
Recalling the incident, Mustafa told TOI that he was watching television when the building shook suddenly. "Earlier in the day, when light tremors were felt in the city, I was reminded about the dos and don'ts during an earthquake. I thought that another round of tremor had hit the city," he said.
"I was terrified but I recalled an episode of the cartoon show 'Doraemon' in which Nobita (the central character of the series) was taught about protecting himself during an earthquake by taking shelter in corners or under the bed. Without wasting a second, I took shelter under the bed," Mustafa recalled.
"I saw mummy running and screaming. Within no time, the entire building collapsed and everything became dark," he said.
"I did not fall unconscious even after the incident. I heard people screaming and crying for my mother and father but to no avail. I felt suffocated and don't remember anything after that. Later, I saw some strangers taking me somewhere," Mustafa said.
Mustafa's father Abbas Haidar, who is a Samajwadi Party spokesperson, was not in the house at the time of the incident, while his grandfather, Amir Haidar, a veteran Congress leader, survived the incident.
Incidentally, the family had celebrated the golden jubilee wedding anniversary of Mustafa's grandparents on Monday.
While the boy survived the incident with minor injuries and was not told about his mother's demise till the TOI interviewed him, his grandfather, who is undergoing treatment in another room of SPM Civil Hospital, was in deep shock and was unable to say anything.
Mustafa's uncle Zeeshan Haider and father Abbas Haider, were inconsolable.
Condolence messages for the victims kept pouring in throughout the day on social media and remained the top trend under #Lucknow.
Samajwadi Party president Akhilesh Yadav tweeted: "Extremely saddened by the demise of Begum Haider ji and wife Uzma Abbas ji, mother of Samajwadi Party spokesperson Abbas Haider. May God give peace to the departed souls. Deepest condolences to the bereaved family. Heartfelt tribute".
Timeline: Blow by blow account
January 24
6.45 pm| First call to UP 112 about the collapse.
7.10 pm| CM orders units of SDRF and NDRF to rush to the spot.
7.30 pm| SDRF, NDRF and police first rescued Mustafa, his grandfather Amir Haider and one Ashley Burns from the apartment rubble. All three were rushed to SPM Civil Hospital
7.40pm| Cabinet ministers, and dministrative officials reached the spot to take stock and supervise the rescue operations.
9pm| Another resident Ranjana Awasthi along with her daughter Aloka, a woman Nasreen and one MY Khan rescued.
9.30pm| Eight JCB machines were pressed into the services to clear the rubble. 26 gas cutters were brought by the SDRF team to cut through the heavy objects and gain entry. 15 small oxygen cylinders were stationed.
10pm| NDRF teams identify three spots for gaining entry. A temporary hospital was erected, and doctors from KGMU Trauma Center reach the spot.
11.30pm| Sniffer dogs track two unconscious residents Khalid and Unnati. Both were taken to KGMU Trauma centre.
11.45pm| A unit of the Army called and asked to remain on standby.
January 25
12.30am| Teams deploy Trapped Person Locators (TPL) to trace those under the rubble. Army units assist NDRF and SDRF teams.
2.30am| Locals offer tea, snacks and water to rescue teams.
6.30am| Shahjahan and Afreen recused from debris.
10.30am| 75-year-old woman Begum Haider recused in an unconscious state; declared dead by civil hospital.
12.30pm| 35-year-old Uzma Haider recovered in an unconscious state; she, too, died in hospital.
3pm| Heavy slabs removed from the spot; only rubble left. CP says only one person could be inside. Rescue ops continue.