LUCKNOW: The first of the two roadshows planned for Lucknow ahead of the UP Global Investors' Summit, to be held from February 10-12, brought in investment proposals of Rs 56,000 crore.
Deputy chief minister Brajesh Pathak inaugurated the event in the presence of Union minister Kaushal Kishore and UP PWD minister Jitin Prasada. The government signed 262 MoUs worth Rs 56,299 crore against 331 investment proposals that were submitted online.
Shalimar Corporation Ltd has pledged the highest investment amount of Rs 2,032 crore. Lucknow district magistrate Suryapal Gangwar said that MoUs were signed with Omaxe Ltd (Rs 1,500 cr), Amravati Residency Ltd (Rs 1,400 cr), Rishita Developers Pvt Ltd (Rs 903 cr), Sapphire Infraventure Pvt Ltd (Rs 226 cr), Aerolay Technology Ltd (Rs 300 cr) and LabCam PathLab (Rs 45 cr).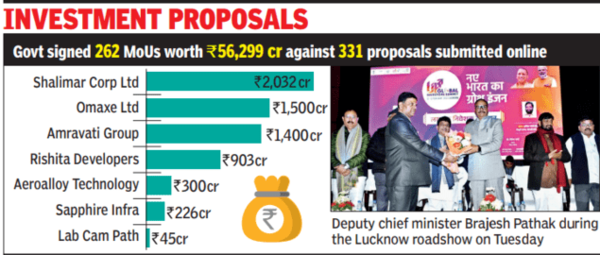 Among sectors, 24 proposals worth Rs 329.2 crore were received for agriculture, including Rs 10 crore for dairy, Rs 10 lakh for fisheries, Rs 14 crore for food processing, and Rs 20 crore for warehousing. LDA has given clearance to 68 schemes worth Rs 15,485 crore of which MoUs have been signed for 64 projects.
Addressing the programme, the deputy CM said, "Industrialists and government are the two wheels of the cart. The goal will be achieved, if we move together."
"Gone are the days of goons and mafias. Today's UP is committed to ensuring industrial development and rule of law and order," he said, adding that the mafia who ruled the roost before 2017 had left the state. He said every class was getting the benefit of the schemes run under the leadership of Chief Minister Yogi Adityanath.
Pathak said every major city had air connectivity from Lucknow which was helping in growth of business activities. "Now, traders do not need to go outside to work. They can do business from their home district and make profits," he added. "Prime Minister Narendra Modi has also praised ODOP products of UP.
These products are being given as gifts to domestic and foreign guests. The BJP government is giving employment to people," he said. He also spoke about his successful visit to Mexico, Brazil and Argentina and said that MoUs worth crores of rupees were signed.
The conference, organized by the Lucknow district administration and IIA (Lucknow Chapter), was divided into four sessions in which the DM, LDA VC, and chief development officer gave information about the new investment policies of the government and the guidelines for resolving issues faced by industries.
Technical sessions were organised on manufacturing, textile, MSME and industrial investment, agriculture, dairy and food processing, bio-energy, housing, infrastructure and logistics and tourism. "In the next phase, efforts will be made to put these MoUs to the ground.
I assure the entrepreneurs that the district administration is with them. They will have no problem doing business here. The efforts will help the state flourish, and Lucknow will play an important role in it," the DM said.
Khalid Masood, whole time director of Shalimar Corp, said the company would invest in the construction of infrastructural projects like clubs, schools, residential schemes and commercial hubs. "We have world's renowned architects for these projects which will give a new dimension to real estate construction not only in Lucknow and the state but also in the country," he said.
Director, Morassi Pharmaceuticals, Ravindra Singh said the investors' summit would help accelerate UP's development. "The facilities for passing the map before the start of work in any industry, related to land utilization, simplifying the licence process through single window system and approving subsidies during setting up of industry, are encouraging for industries," he said.
Rahul, owner of Satyam Foods, said that the current government policies were extending more concessions as compared to previous governments. "The state government's focus is on solving the problems of entrepreneurs," he said.