LUCKNOW: In an exciting news for stargazers, a green comet which was last seen during the Stone Age about 50,000 years ago will be seen once again at the end of this month. The best part of this celestial show is that the comet will be visible to the naked eye. The comet, named C/2022 E3 (ZTF), will light up the sky in the last week of January or early February.
To have a better and clearer look, one may visit the
Indira Gandhi
Planetarium where officials are ready to support the enthusiasts by providing them binoculars and a telescope to witness the cosmic show if bad weather does not hamper the view. According to astronomers, the best time to view the comet will be during the dawn in the northeast direction.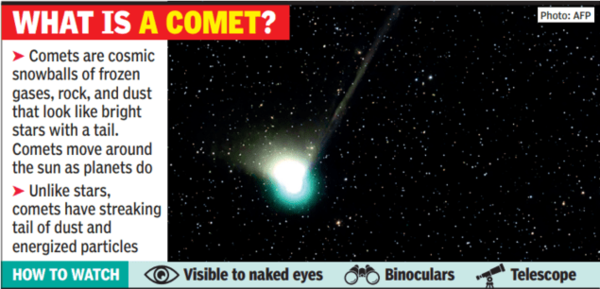 "Comets are cosmic snowballs of frozen gases, rock, and dust that look like a bright star with a tail, moving around the sun as planets do. Comet C/2022 E3 (ZTF) will be closest to the Earth's orbit in January last week and will continue to be visible for around a week till early February," said senior scientific officer, Indira Gandhi planetarium, Sumit Srivastava.
Srivastava said the comet would be closest to the earth's orbit in January-end. "It is a very rare occurrence as it might take another 50,000 years for humans to witness it again. As the comet will move near earth, people will be able to spot it in the northeast direction," he said.
For people who want to make sure that they see a comet all they need to know is that comets have a streaking tail of dust and energized particles, as well as the glowing green coma surrounding it.
It will be the comet's tail that will be visible to the naked eye," Srivastava said. He said not just astronomers but every skywatcher was excited about the celestial show. "It will be visible across the globe. City residents will be able to see it if weather and air pollution doesn't pose to be a barrier, Srivastava said.