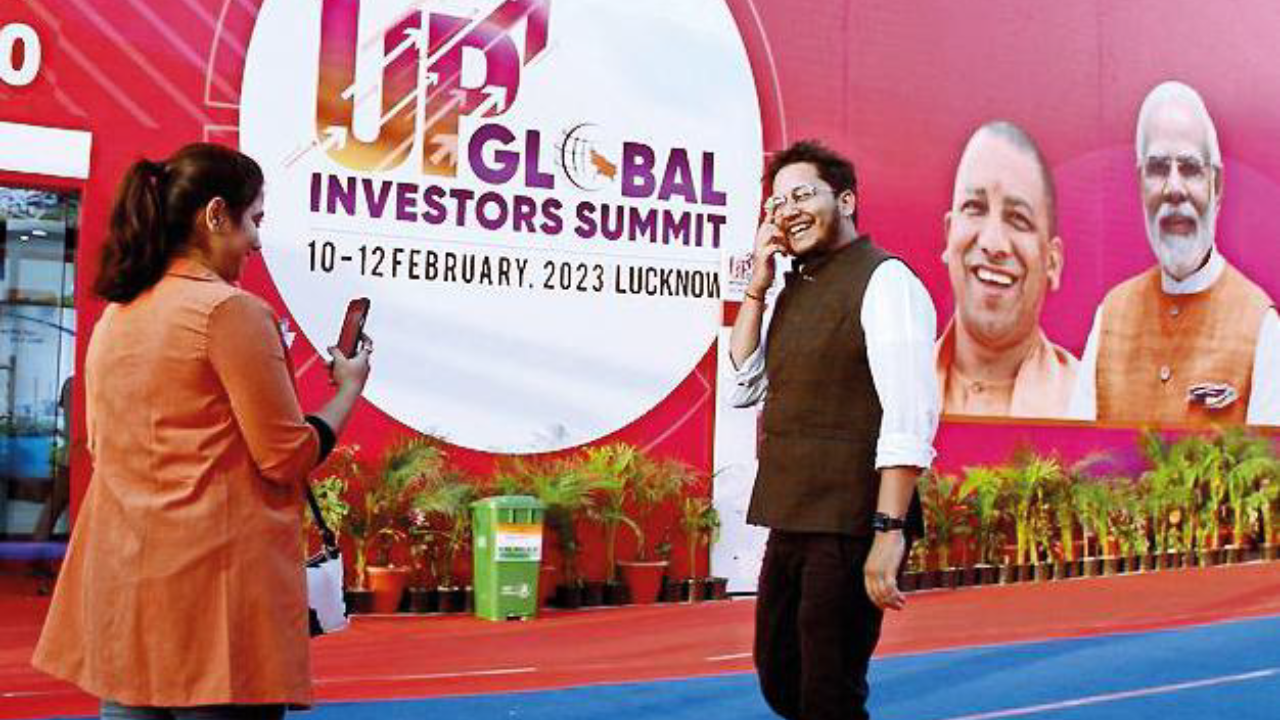 LUCKNOW: As the Global Investors Summit drew to a close on Sunday with investment proposals of Rs 33.5 lakh crore, three times the target it had set for itself, Gautam Buddha Nagar as a district and west UP as an area have once again bagged the highest number of investments. In fact, Gautam Buddha Nagar has bagged 27.16% of the total investment intents for the state with 1,335 MoUs, followed by
Agra
in a distant second with 7.54% of the total investments through 281 investment intents. State capital Lucknow is third with 6.79% of investments but it received more proposals than Agra with 782 MoUs.
Tauschen International Limited from Hong Kong was the largest investor in this Summit, signing 16 MoUs worth Rs 1.9 lakh crore in sectors such as MRO, manufacturing, electronics, skill development, textile, EV, medical devices, logistics and warehousing, agriculture, pharmaceuticals and healthcare. The company will be setting up projects in Gautam Buddha Nagar, Mirzapur, Agra, Lucknow and Varanasi and is likely to generate 62,494 employment opportunities.
RG Strategies Group is the second highest investor, having signed 7 MoUs worth Rs 1.73 lakh crore for investment in sectors like renewable energy, EV and electronics manufacturing.
The government has signed 8,389 MoUs for Pashchimanchal or west UP for Rs 14.81 lakh crore or 45% of the total investment. Purvanchal has cornered 5,406 MoUs for Rs 9.54 lakh crore or 29% of the total investment intent. Bundelkhand and Mandhyanchal have received 13% of the total intents each, though the latter has bagged many more projects as compared to Bundelkhand with 4,424 MoUs. Bundelkhand has received only 424 proposals.
Among sectors in which the government has received the highest number of proposals are renewable energy, followed by electronic manufacturing and industrial parks. The government has signed 144 MoUs under renewable energy with an investment intent of Rs 4.47 lakh crore or 15.47% of the total investment. Under electronics manufacturing, the government has signed 151 MoUs worth Rs 3.59 lakh crore while under industrial parks, 2,020 MoUs worth Rs 3.28 lakh crore have been signed. Interestingly, manufacturing has possibly seen the highest number of MoUs being signed at 7,711 but has only 6.85% of the total investment intents.