HYDERABAD: Little known Telugu film actor Naveen Reddy Atluri, who was arrested on February 2 in a case of forgery and cheating, is alleged to have duped his business partner Katta Sarin Reddy to the tune of 38 crore.
Central crime station (CCS) police on Tuesday said the arrested actor-cum-real estate businessman cheated Sarin Reddy by disposing of the assets of Sark N Square Projects Private Ltd after forging the latter's signature and registering the assets on his name. With the ill-gotten money, Naveen even made a film 'No Buddy' in which he was the hero.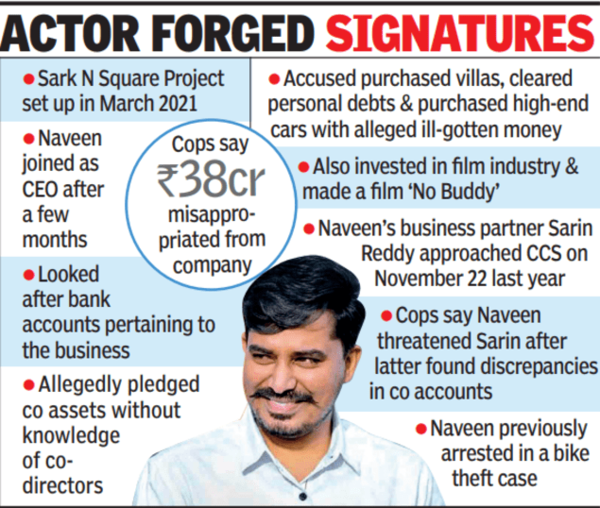 "During the investigation, we found that Naveen has misappropriated 38 crore of the company. He purchased villas, cleared his personal debts and invested in the film industry. He even purchased high-end cars," CCS joint commissioner Gajarao Bhupal said. Naveen, 34, was director of N Square Projects, Gachibowli.
Following a petition filed by the investigators, the court granted police custody to interrogate Naveen for three days between February 5-7. Sources said Naveen is believed to have confessed to his deceit during the investigation.
The economic offences wing of CCS stepped in following a complaint by Sarin Reddy in November 2022. Sarin Reddy told police that he set up N Square Projects and in due course of time, the joint venture acquired lands in and around Hyderabad. The bank accounts pertaining to the business were looked after by Naveen.
The accused created a fake board meeting resolution by forging the signature of Sarin Reddy and transferred 7.3 acres of land to his friend Kalyan Reddy in August 2022. Two months later, in October, Kalyan transferred the land to Upender Reddy, paternal uncle of Naveen.
Naveen also sold out the villas built by their business entity to customers without the knowledge of Sarin Reddy. It was also alleged he also transferred 6 crore worth company land without Sarin Reddy's knowledge. Naveen also shifted the company office from Jubilee Hills to Gachibowli in March 2022.
Police said Sarin Reddy found a lot of discrepancies in the accounts and when he questioned Naveen, he threatened Sarin Reddy with dire consequences.
Naveen was booked under sections 420, 465, 468 and 471 (read with 34) of IPC. Naveen, who is a native of Kodipunjulagudem village in Suryapet district, was previously arrested in a bike theft case.