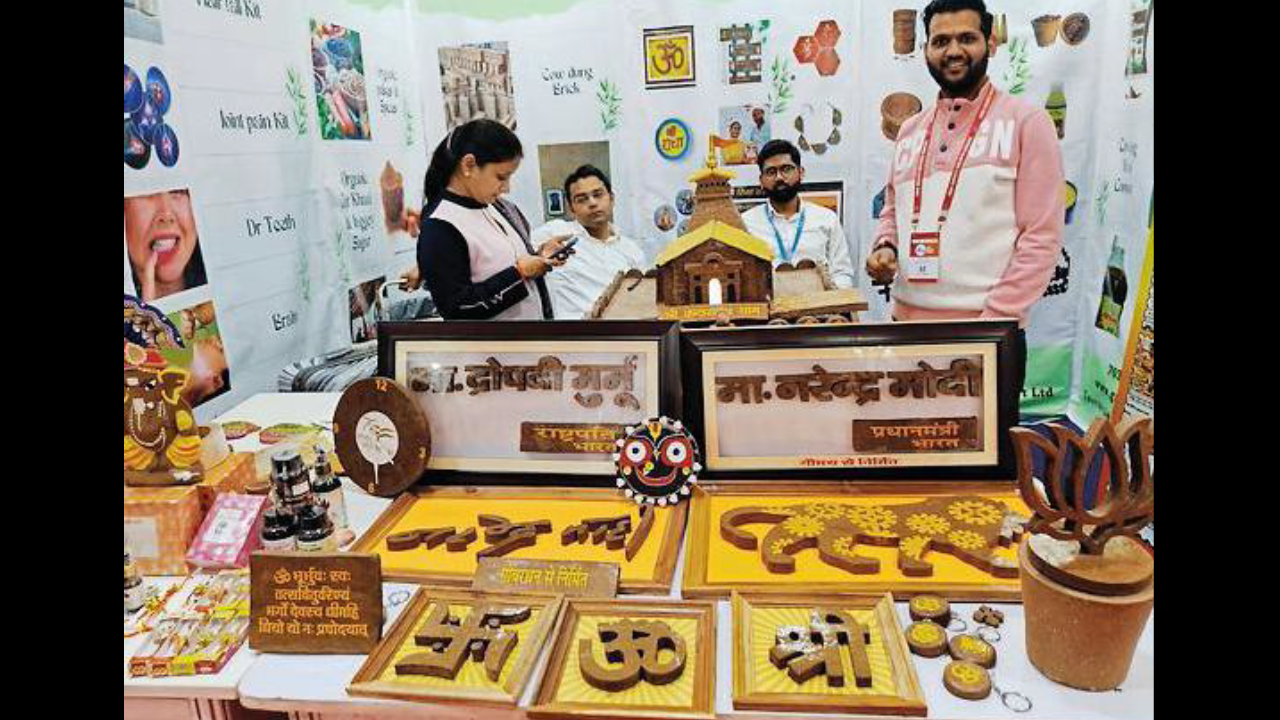 LUCKNOW: Walking through the UPGIS exhibition and trade fair area, two name plates strike visitors' attention immediately. Nicely framed in glass and wood, the names are that of President Draupadi Murmu and Prime Minister
Narendra Modi
.
The uniqueness of two artefacts was that both are made of 'gobar-dhan' as cow dung is described in ancient wisdom. To give strength to the material, multani mitti and lime powder was added.
Also, a wide variety of decorative items like wall clocks, keychains, religious symbols and mantra mementoes, puja items like havan cups, dhoop sticks and even idols made from cow dung cakes were on display at the stall set up by Rampur-based startup Gayewala.
"The idea owes its genesis to a general sense of backwardness associated with farmers and cow or buffalo rearing community. The sentiment hit me and my group of friends' in 2010 but in 2019 gayewala.com took shape," said Pranjal Agarwal, director.
Claiming to be using an estimated two tonnes of cow dung each month from their own gaushala and from two other government ones, co-founder Geetika Gupta said: "Our humble beginning recorded a turnover of Rs 19 lakh in 2019-20 which went up to Rs 35 lakh in 2021-22. We now look forward to a turnover crossing Rs 1 crore in the next few months."
The duo claimed that the startup was positively impacting the life of scores of rural women.
Seema Kumari of Sigan Kheda is engaged in the work of making these products and earns a minimum of Rs 150-250 per day. The finishing work is done by artisans like Shraddha Dixit who earn about Rs 40 per piece.