NEW DELHI: Congress president Mallikarjun Kharge has asked Centre to provide adequate security till culmination of Bharat Jodo Yatra in Srinagar.
In a letter addressed to Union home minister
Amit Shah
, Kharge said that "I shall be grateful if you could personally intervene in the matter and advise the concerned officials to provide adequate security till culmination of yatra."
"We are expecting a huge gathering to join the yatra over the next two days and also the function that will be held on 30th January at Srinagar," Kharge said in his letter.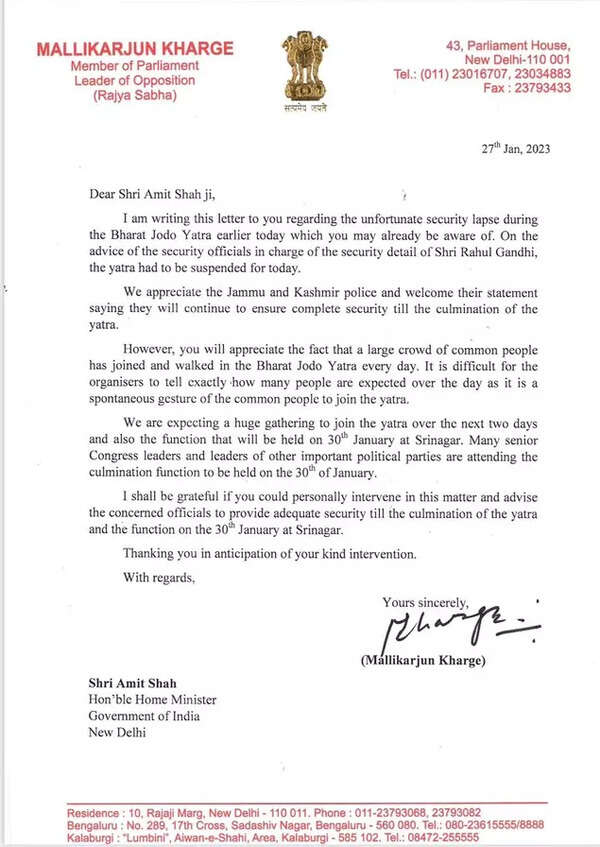 His letter to Shah comes after the Bharat Jodo Yatra was suspended for the afternoon session on Friday following a "security lapse", with the Congress alleging that the J&K Police had withdrawn security around its leader Rahul Gandhi in the wake of surging crowds during the foot march in Qazigund.
Rahul said – "We had quite a large crowd that had gathered and we were looking forward to walking on the Bharat Jodo Yatra, but, unfortunately, the police arrangement completely collapsed and the police people, who were supposed to manage the crowd, were nowhere to be seen," while addressing a press briefing in Jammu and Kashmir on Friday.
"My security people were very uncomfortable with me walking further on the yatra. So, I had to cancel my walk. The other yatris, of course, did the walk. I think, it is important that the police manage the crowd, so that we can do the yatra" he added.
The yatra resumed from Awantipora in Jammu and Kashmir on Saturday.
#WATCH | Congress party's #BharatJodoYatra resumes from Awantipora, Jammu & Kashmir. PDP chief Mehbooba Mufti joins… https://t.co/TQD3bNzIKh

— The Times Of India (@timesofindia) 1674880128000
However, Jammu and Kashmir Police dismissed the allegations of security lapse in the Bharat Jodo Yatra which entered the Valley on Friday.
The Police said steps had been taken to ensure the best possible security for the ongoing Bharat Jodo Yatra and organisers and managers did not intimate about a large gathering from Banihal joining the Yatra, which thronged near the starting point.
BJP leader Gaurav Bhatia accused Rahul Gandhi of making misleading allegations against the security agencies.
"It has become Rahul Gandhi's habit to make baseless allegations. He has made wrong allegations against Kashmir Police. It appears that cheap politics is being practiced," he said.
The Bharat Jodo Yatra, which started in Kanyakumari on September 7, will conclude on January 30 in Srinagar after covering 3,970 km, 12 states and two Union territories.
The 3500-km foot march is aimed at galvanising the Congress cadres across the country, but the party is claiming that the Yatra is not political and seeks to unite India in the wake of growing "hatred".
(With inputs from agencies)