LUCKNOW: Several people were feared trapped in the debris as Alaya Apartment, a five-storey residential building on city's Wazir Hasan Road, caved in at 6.45 pm on Tuesday. Senior officials claimed that there was no casualty while 14 residents had been rescued and rushed to hospital where their condition was stated to be stable.
Taking note of the incident, Chief Minister Yogi Adityanath directed the national disaster response force (NDRF) and its state unit to rush to the spot while a team of the Indian Army was also pressed into the rescue operations around 9 pm. His advisor Awanish Awasthi was at the site to provide regular updates to the CM.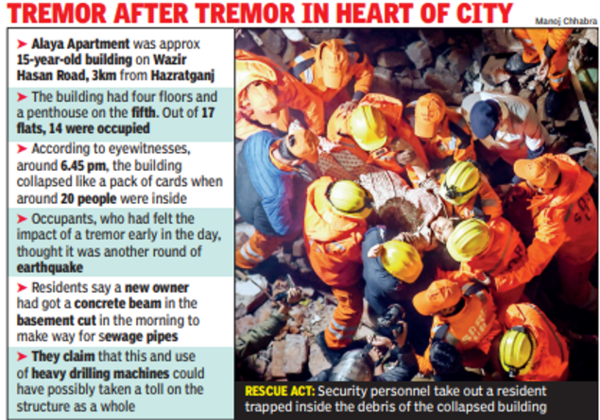 DGP DS Chauhan, who was supervising the operations at the site, said more than 20 people were inside when the building collapsed and 14 of them had been rescued. "We have managed to contact one of them and a mobile phone has been passed on to him for communication. Personnel from the NDRF and SDRF are trying to breach through the debris passages that had been made from three different points. The strategy is to make a hole and then through it the team will contact those trapped," he added.
A senior SDRF official told TOI, heavy machines were not being used to remove debris as it might jeopardise the lives of those still trapped inside. "We have to move very carefully as often people are alive and trapped under heavy structures of concrete. Once we are sure there is no one inside, we would use JCB machines to remove debris," he added.
DM Suryapal Gangwar said that two residents trapped in the debris were provided oxygen from outside as they were feeling suffocated. Lucknow police commissioner SB Shiradkar said that nobody had been found dead so far and those rescued had been sent to the SPM civil hospital and KGMU Trauma Centre.
Deputy CM Brijesh Pathak, urban development minister AK Sharma, principal secretary, home, Sanjay Prasad along with top officials from the State Disaster Management, fire services, police, and LDA, were at the site. Pathak said that accountability for the accident would be fixed but saving the residents' lives was the priority. According to local residents, the building had four floors and a penthouse on the top. Out of 17 flats, 14 were occupied, but families were in about eight of them when it gave way.
Senior Congress leader Amir Haider's family used to live in the penthouse. While he, his son Abbas Haider and grandson Mustafa had been rescued, his wife and daughter-in-law Uzma Haider were still trapped inside till the filing of this report. The scene at the apartment site was heart-rending as hundreds of people related to those trapped inside had gathered there.
Police, however, were not allowing them to go closer to ensure a smooth rescue operation. Still, narrow passage of the Wazir Hasan Road lane was hampering the operations.
There were reports that a few apartment owners had recently sold off their flats and the new occupants were getting some repair work related to sewage done. On Tuesday morning, an owner had reportedly got a concrete beam in the basement cut to make way for sewage pipes. Locals claim that this could have possibly taken its toll on the structure.
According to initial reports, the building was constructed about 15 years ago and families moved in to occupy the flats from 2018 onwards. Apartment residents said that the building was constructed by Yazdan Builders whose illegal under-construction apartment near the accident site was demolished by the authorities recently.
Ranjana Awasthi, 60, who lived on the third floor of the building along with her daughter Aloka Awasthi and was rescued from the debris, told TOI that she was sitting inside her house when the entire building collapsed within seconds. Shubham, who resides just next to the apartment, said that a loud noise was heard and the entire structure came down in a fraction of seconds.