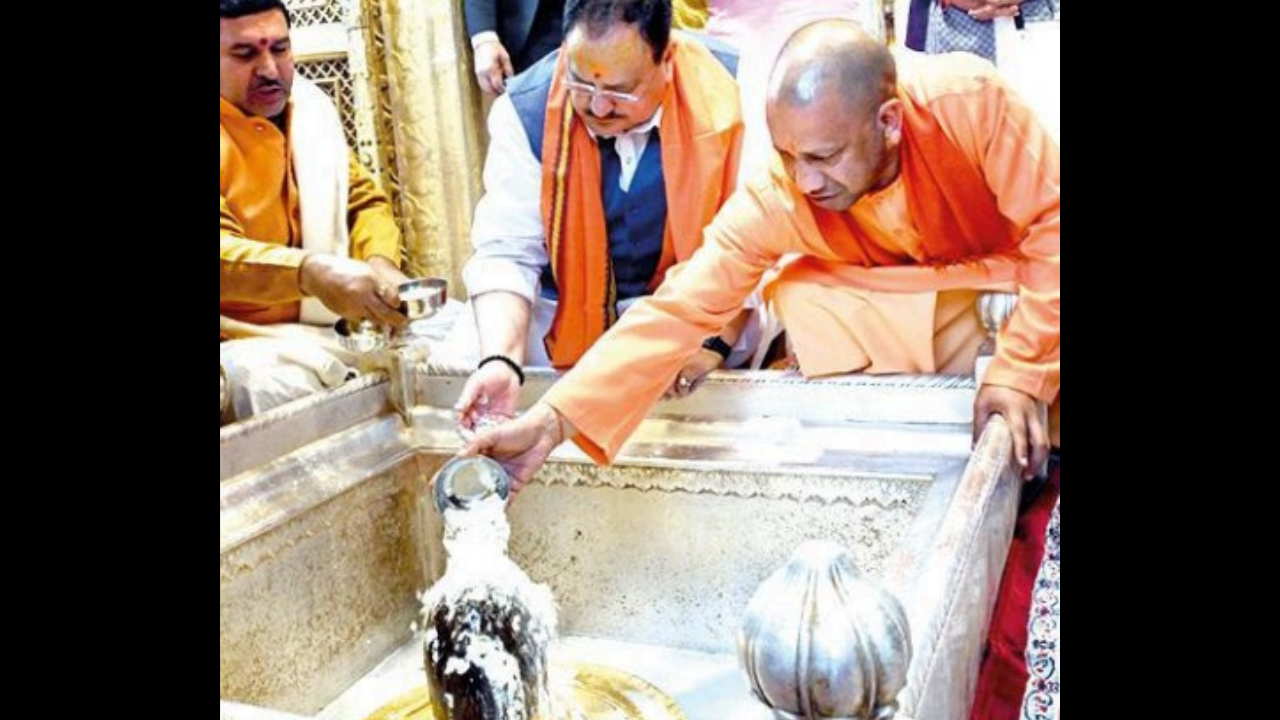 VARANASI: Kicking off party's 2024 Lok Sabha election campaign in Ghazipur, BJP national president JP Nadda on Friday addressed a rally where he underlined the progress that India has made under the leadership of Prime Minister Narendra Modi. Nadda added that under PM's leadership, the Yogi Adityanath government in
UP
has emerged as HIRA.
Nadda, who was addressing a public meeting at ITI Ground in Ghazipur, explained the acronym HIRA. "H means highways, I – information, R – railway and A – airways. Under Modi's guidance the Yogi government has given huge expansion to HIRA in the state and now waterway is also getting added in it."
"When people of UP discarded mafia raj by voting BJP to power at Centre and in UP, Modi government ensured a proactive, pro-responsive and pro-responsible governance by ensuring that money sent for development and benefits of poor is utilized cent percent," he said.
Vote right: Pushing wrong button brings mafia raj, says Nadda
Taking a jibe at previous SP government, Nadda mentioned that "during Akhilesh regime, the money sent to UP for development work used to leak from the state government's bowl to reach somewhere else". "So far, Rs 22 lakh crore have reached the bank accounts of beneficiaries of different government schemes through Direct Benefit Transfer Scheme without involving middlemen," he said, adding, "During the Congress government, 85 paise of one rupee sent by the Centre to states were grabbed by unknown 'panja' (hand)."
Cautioning the people, especially of Ghazipur to utilize the power of their votes wisely, Nadda said, "Role of each vote is important in democracy as pushing a wrong button brings mafia raj, while selection of right button results in its elimination. Pushing the right button brings highways, expressways, medical colleges and other developments." "There had been gunda raj and mafia raj in UP, where grabbing of land of poor, kidnapping, hooliganism and unlawful activities had become a common practice," said Nadda, adding, "With the formation of the double engine government, Yogi ensured end of mafia raj by pushing mafia dons and gangsters on the backfoot and established the rule of law in the state." Nadda also targetted BSP MP from Ghazipur, Afzal Ansari.
"The local MP is not concerned about the development of Ghazipur. He is working only for the release of his brother (Mukhtar Ansari) from jail. These people emerged as symbols of mafia raj and looted people's lands. The action initiated against them has brought peace in the state," he emphasised. Praising Modi's leadership, the BJP chief said that in eight years India has emerged as the fifth largest economy of the world.