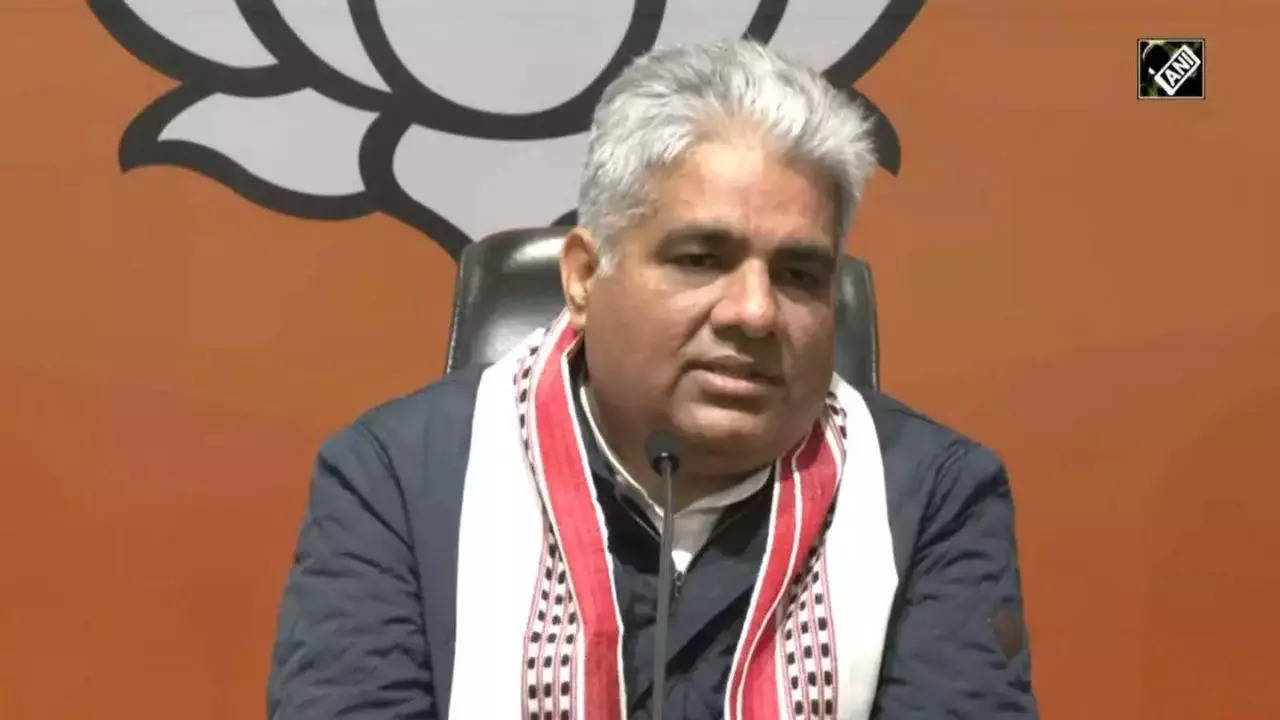 LUCKNOW: Days after SP chief
Akhilesh Yadav
questioned the BJP if he was a "Shudra", union minister and BJP national general secretary Bhupendra Yadav on Sunday maintained that his party did not believe in levelling casteist slur on anyone.
"He (Akhilesh Yadav) needs to answer as to why he is calling himself so. We haven't said anything such…," Yadav said, while speaking to reporters in Lucknow. Bhupendra Yadav's dismissal of `Shudra' narrative comes against the backdrop of controversy over Ramcharitmanas with SP leader Swami Prasad Maurya alleging that some prose of the Hindu religious scripture was derogatory for a section of socially oppressed classes.
Flaying the opposition, Yadav said that a handful of people wanted to spread the poison of casteism in the society. "But our party principle is to work for all sections of society… we are working with positivity and believe that it would help in structuring a robust economic growth," he said.
The union minister ducked the issue of conducting caste census as demanded by a section of opposition parties, including the Samajwadi Party. Yadav said his party believed in the motto of "Sabka saath Sabka Vikas, Sabka Vishwas" and worked in that direction only. He said that the union budget 2023-24 was indicative of the government's efforts to spread the welfare measures evenly amongst all sections of society including the SC/STs and OBC. "The government stands by the provisions enshrined in the constitution conceptualised under the leadership by BR Ambedkar," he said.
Yadav's stance comes a day after deputy CM Keshav Prasad Maurya came in support of the caste census. BJP sources said that the saffron parties sought to tread cautiously on the issue of caste census considering its prospective fall outs. Experts said that Maurya's statement was a discreet attempt to undercut the opposition ploy to play out the caste politics even as the BJP sought to stretch a large umbrella of Hindu identity.
To a question on the opposition demanding a discussion in parliament over a purported financial crisis involving the Adani group, Yadav said that the opposition itself was "running away". "Government is all in favour of smooth running of the parliament," he asserted, pointing out that the Business advisory committee in the Rajya Sabha had given time to conduct a discussion. "They (opposition) got a time allocated by the committee and then stayed away…this shows the extent of responsibility on the part of the opposition," he said.
Meanwhile the minister termed the 2023-24 Union budget as the one fulfilling the aspirations of all sections of society, giving a boost to economic activity and generating employment.