LUCKNOW: The
BJP
reached out to 30,000 SC/ST dominated villages of Uttar Pradesh – which is almost 40% of the target set by the party nationally (75,000 villages) – under its ambitious 'Basti Sampark Abhiyan' organised last year.
The BJP's aggressive Dalit outreach in UP is set to be highlighted by the party in its national executive of SC/ST Morcha scheduled to be organised in Mysuru district of poll-bound Karnataka on January 8 and 9. The meet is scheduled to be attended by national president JP Nadda and national general secretary (organisation) BL Santhosh, who recently reviewed UP BJP's organisational functioning and execution of various programmes and campaigns.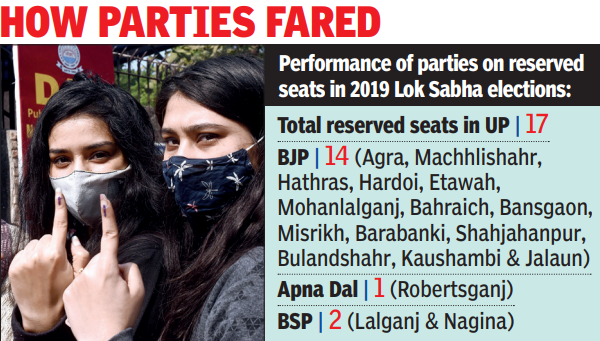 UP BJP sources said that Santhosh had also taken the feedback vis-a-vis 'Basti Sampark Abhiyan' which was launched on the birthday of PM Narendra Modi on September 17, last year. The campaign was envisaged with the purpose of accelerating implementation of various schemes initiated by the Centre in Dalit villages.
UP BJP SC/ST Morcha chief Ram Chandra Kannaujia claimed that the state unit overshot the target of 15,000 villages by organising camps in 300 to 400 villages across 75 districts on a daily basis until its culmination on November 26. Kannaujia said that he submitted a report with the SC/ST Morcha national president Lal Singh Arya a few days ago. Accordingly, sources said, the national leadership is likely to review the implementation of the scheme in other states in its SC/ST national executive.
As a follow-up, the BJP is learnt to have prepared a list of weak booths where more than 100 SC voters exercise their franchise. Sources said that the saffron outfit also used the campaign to dispel "misinformation" and "confusion" amongst Dalits about the BJP and its government at the Centre and various states. At the same time, the socially downtrodden were made aware of the opposition's alleged canards about dilution or doing away with the reservation benefits to the socially downtrodden, party sources said.
In the case of UP, the move is seen as BJP's assertive bid to make effective inroads into the Dalit community – which happens to be the core vote bank of BSP chief Mayawati in UP – in the run-up to assembly elections in nine states and then in 2024 Lok Sabha elections.
The Dalit community comprises around 21% of the electorate and plays a crucial role in deciding electoral fortunes of any political party, especially in politically crucial UP. Previous Lok Sabha election results show that the BJP and its allies won 15 out of 17 parliamentary seats reserved for Dalits. Only Lalganj and Nagina were won by BSP which contested in alliance with the SP.