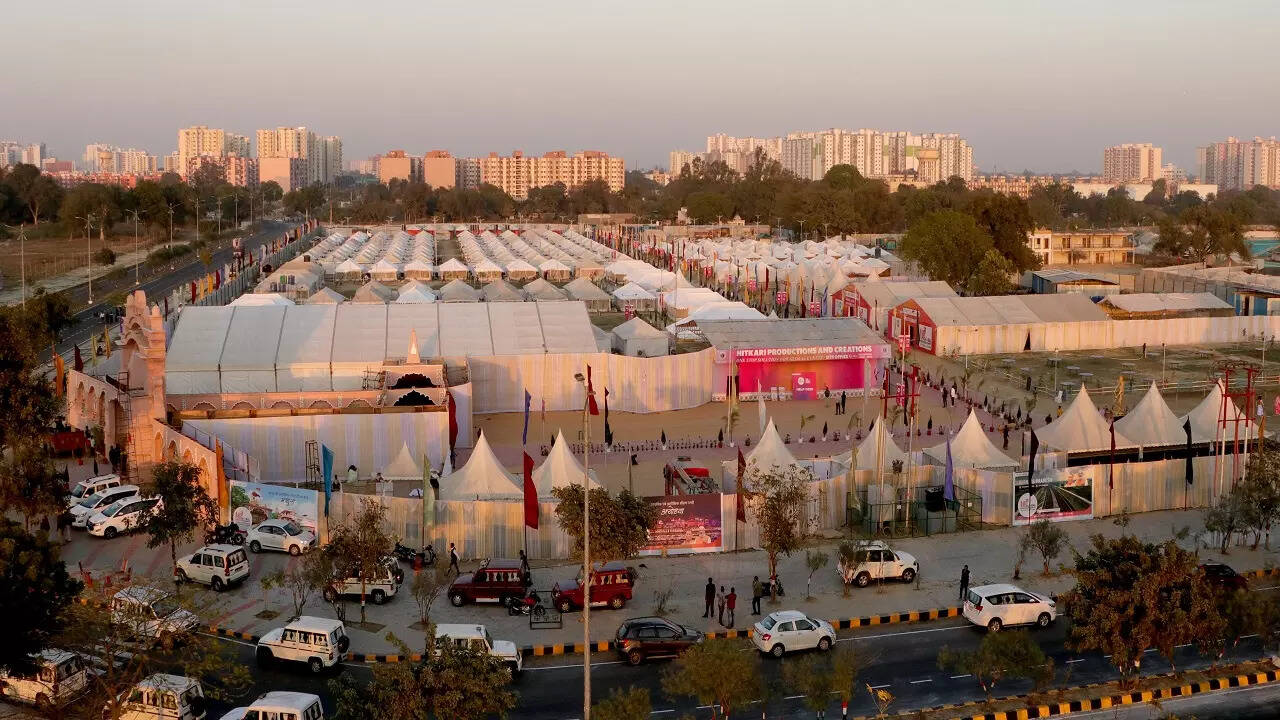 LUCKNOW: With an aim to establish
Uttar Pradesh
as a major investment hub and develop it into a USD 1 trillion economy, the state government, led by CM Yogi Adityanath, will welcome thousands of industry luminaries, foreign investors and political bigwigs to the three-day UP Global Investors Summit starting Friday.
Prime Minister
Narendra Modi
will inaugurate the programme on Friday while the chief guest at the closing ceremony on Sunday will be President Droupadi Murmu.
Uttar Pradesh Global Investors Summit 2023: Rs 27,00,000 crore & counting..proposals far exceed target
As man as 23 Union ministers, including defence minister
Rajnath Singh
and home minister Amit Shah, and foreign delegates will participate in over 30 technical sessions on various sectors like manufacturing, defence, animal husbandry and dairy, handloom, health, IT, aviation, media and entertainment, energy etc.
Representing India Inc will be Reliance Group chairman
Mukesh Ambani
, Mahindra Group chairman Anand Mahindra, Aditya Birla Group chairman
Kumar Mangalam Birla
and Tata sons chairman N Chandrasekaran among others.
Having set a target of getting investments of Rs 10 lakh crore through this event, the government had already received proposals of over Rs 27 lakh crore through close to 18,000 MoUs till the eve of the programme, which when fully implemented can yield as many as 2 crore direct and indirect jobs in the state.
Till Thursday, the government had received around 18,477 intents of investment of which about 17,782 have been converted into MoUs. Another 500 intents are under scrutiny and may be signed during the summit itself.
To ensure the success of this programme, the state government undertook roadshows in 21 cities across 16 countries to invite participation in the GIS-2023 and speak about the investment friendly environment in UP. The result of these ministerial visits was that 108 MoUs worth Rs 7.12 lakh crore have been signed. Within India, the government dispatched ministerial delegations to nine cities, collecting investment intents of more than Rs 10 lakh crore. The roadshow in Mimbai
The state government has revamped 25 sectoral policies, offering subsidies, grants, land etc, to make them investor-friendly. A special Nivesh Sarathi portal was set up only for the purpose of signing MoUs online and tracking them to ensure effective and quick implementation. For the first time, investors and entrepreneurs from all 75 districts will participate in the opening ceremony through a live feed from their respective district headquarters, where they will be participating in a mini summit to pledge investments in the state.
The Summit comes just in time for the BJP government to pitch the UP model of development ahead of the 2024 Lok Sabha polls. In 2018, the Yogi Adityanath government 1.0 held its first investors summit, garnering MoUs worth Rs 4.28 lakh crore across sectors like renewable energy, infrastructure, power, IT & Electronic Manufacturing, tourism etc. The summit was followed by two ground breaking ceremonies where close to 300 projects worth Rs 1.20 lakh crore were grounded. The CM recently revealed that 75% of the MoUs signed in 2018 had been implemented on ground.
The three-day gala event will see participation by investors from countries like US, UK, Australia, South Korea, Japan, UAE, Netherlands etc, especially from Indian diaspora living in these countries. Industry bigwigs from India, like Reliance, Adani Group, Birla, RP Sanjiv Goenka Group, Hiranandani Group etc. Each day will have several cultural events in which more than 500 artists are expected to participate. The programmes, including a drone show, have been planned to showcase UP's culture and heritage.