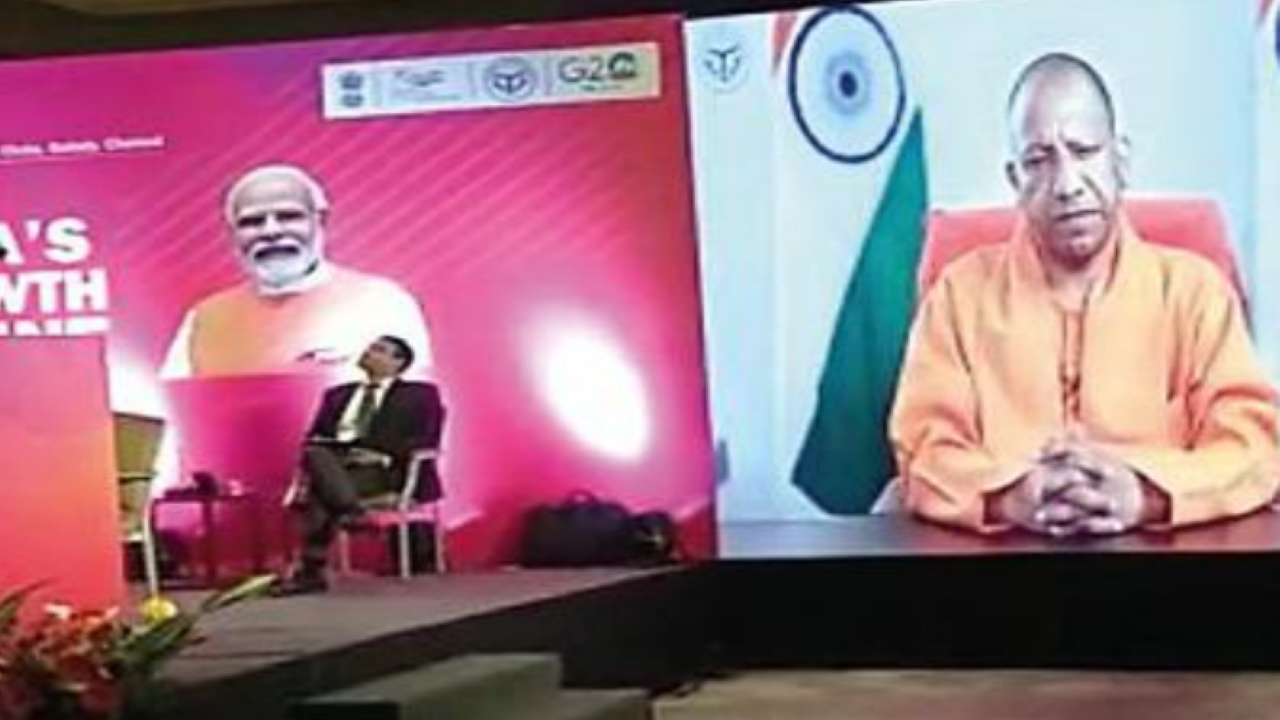 LUCKNOW/CHENNAI: Addressing more than 100 industry representatives through a televised speech in the second domestic roadshow held in Chennai on Monday, ahead of the February's Global Investors' Summit, Chief Minister Yogi Adityanath said that India had witnessed political stability and good governance under Prime Minister Narendra Modi over the past eight years and under his mantra of 'reform, perform and transform', UP had become the growth engine of New India.
"UP has emerged as the foremost investment-friendly state with good governance, zero tolerance policy against crime, single window portal Nivesh Mitra, MoU tracking portal Nivesh Sarathi, online incentive system, ease of doing business and 25 sectoral policies. We also have the most modern infrastructure among all states," he said.
The CM added that UP's GSDP for 2022-2023 was estimated at Rs 21 lakh crore, a 65% increase since 2016-17. In the same period, the state had seen an average increase of 11% in its economy.
The state was represented by finance minister Suresh Khanna, MoS, excise, Nitin Agrawal, MoS, social welfare, Asim Arun, and MoS, backward class welfare, Narendra Kashyap, in addition to senior bureaucrats, at the Chennai event where they met various investors and invited them to participate in GIS-2023.
Khanna said that UP has a stable government with Yogi Adityanath in power since 2017. "Exceptional work has been done in the state in the fields of infrastructure, communication, road connectivity and law and order.
The government runs on a zero-tolerance policy towards crime and corruption," he said. "The Yogi government is the best example of policybased governance. It has done away with unnecessary laws and rules which hampered industry. The government is also giving subsidies in various sectors to encourage industries.
The state has the safest environment for industrialists and we will provide you with all necessary facilities if you decide to invest in UP," Khanna said. In his address, Arun described UP as a "state with limitless possibilities". He said for centuries, UP had been a land of progress but after independence, development had been ignored by successive governments. "It was only in the last six years that UP's progress in all fields had started," he said.
Minister Nitin Agarwal said: "UP is the largest consumer market in the country with a population of 24 crore. Today, UP is the second most favourable state in the country in terms of ease of doing business." He added that the government has implemented 25 new sectoral policies to create business-friendly environment in the state.
"Let us make UP the growth engine of New India. Today, the environment is the most favourable for industry and business in UP. The state has limitless possibilities," he added. On Monday morning, Khanna met Murugappa Group's vice-chairperson MM Murgappan.
The company, active in the field of agro and financial services, has expressed its desire to invest in UP in sectors like sugar mills, fertilizer plants, organic farming, insurance and risk management. The team then met Bhupesh Nagarajan, CMD of Indira Project which is working in the field of Infrastructure, synthetic biology and renewable energy. The company has signed a not-binding MoU of Rs 300 crore.
Another meeting was held with Sreedharan, the representative of Trivitron Healthcare vicechairperson A Ganesan. Praveen Group CMD Mohammad Afzal expressed willingness to invest in the hospitality, transport and logistics sectors. Others the delegation met included T Srinivasan from Mels Systems & Services, Shiju Purushottam from Empy and Hilton Group, Amarnath from Patterson Energy, Chandram Shivaji, vice-chancellor of Saveetha University, Kumaran Mani from Tenth Planet Technology Pvt Ltd, Karthik Rajan from Colliers, Gautman from Setex Pharma, Rufiq Ahmed from Farida Group, Nandkumar from Nanvin Energy and Nitin Sheroff from Microchem Products India Pvt Ltd.