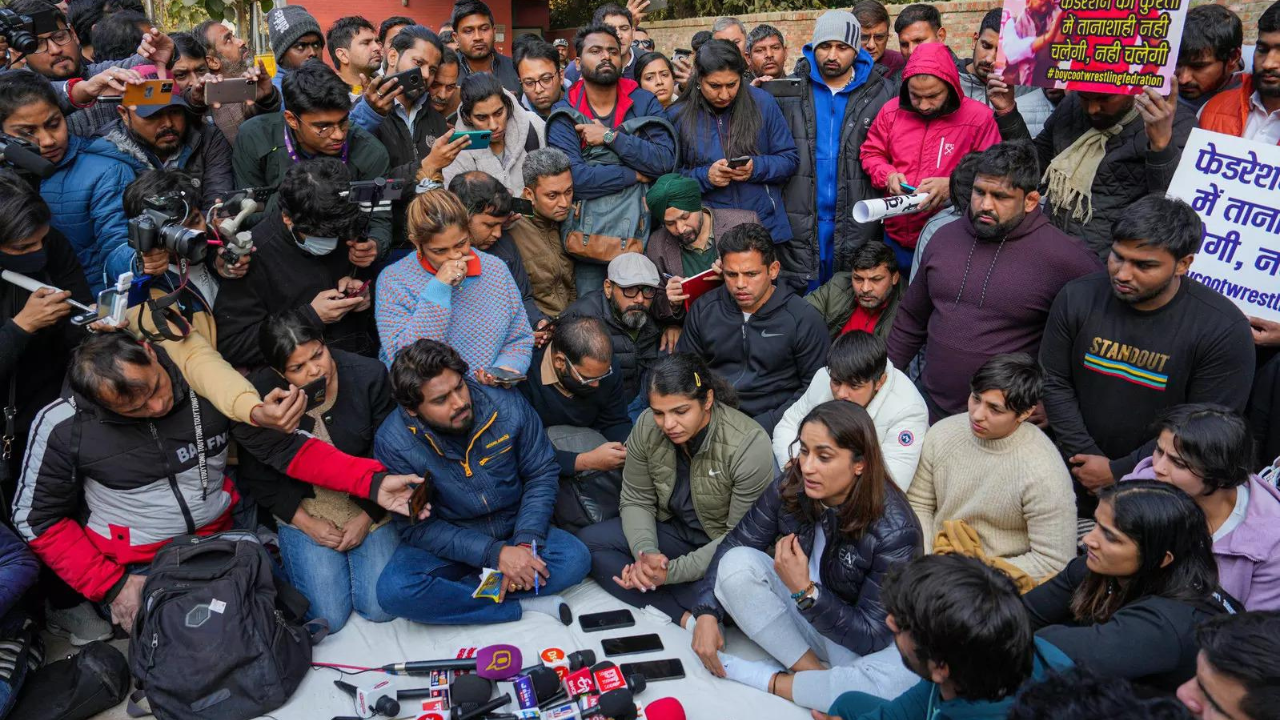 LUCKNOW: A day after the country's leading women wrestlers Vinesh Phogat and Sakshi Malik accused BJP MP and wrestling federation (WFI) chief Brij Bhushan Sharan Singh of sexually exploiting several women grapplers at national camps for years, Sports Authority of India (SAI), Lucknow Centre, executive director Sanjay Saraswat claimed that he had never come across any formal or informal complaint by any player ever since he assumed charge at SAI in 2020.
Talking to TOI, Saraswat claimed, "Allegations levelled by Phogat and Malik are of personal nature and not related to our Lucknow centre".
"Ever since I have taken over the charge of SAI Lucknow centre, no player has complained about any kind of exploitation or harassment. The SAI administration always tries to ensure that the players do not face any kind of inconvenience in the facilities of international level," Saraswat said.
He said: "At our centre, we keep asking women players whether they have any kind of problem or anxiety or depression. We always lend an ear to their issues and offer them counselling, if needed. There are women coaches along with women players to make them comfortable."
Talking about the security at SAI Centre, he said, "Our five National Centres of Excellence are equipped with CCTV cameras, even in the common living area of the players. A female warden is also available for women players, who takes care of everything right from their entry and exit.
"I myself keep grilling players and coaches about the facilities. When players go abroad and see the sports facilities there, I ask them if they want some more facilities."
Echoing Saraswat's views, weightlifter Punam Yadav, a Commonwealth Games gold medallist who had trained in SAI Lucknow from 2010 to 2013, said: "I had trained in the Lucknow centre for three years, but never felt insecure and unsafe. Coaches and staff helped me a lot. I have always had a good experience with Lucknow SAI."
Meanwhile, the Women's National Wrestling coaching camp, which was due to start in SAI's National Centre of Excellence (NCOE) in Lucknow from January 18, with 41 wrestlers and 13 coaches and support staff, has been cancelled.
The executive director of NCOE Lucknow has been directed to provide all the facilities to national campers, who have already reported and likely to report, till the campers depart from the centre. Necessary information regarding the cancellation of the camp has also been sent to all campers.
Wrestlers back WFI president
In a video shared on social media, Asian Games and Commonwealth Games medallist wrestler Divya Kakran defended the Wrestling Federation of India (WFI) president Brij Bhushan Sharan Singh, who has been accused of sexual harassment.
Divya said: "I have been in the camp for 10 years. He never said anything to any women players, who came from other states other than Haryana, where wrestling craze and facilities are less. It is more in their interest that these players should not be discriminated against. How many times the trial is conducted again, but now such a rule has come that even if someone makes a mistake in the trial, he can give it again after two days. This will help the deserving children of lower level not to be left".
She said: "Prime Minister Narendra Modi sir has also praised Brij Bhushanji for the good work. Earlier, when we used to go abroad, we did not get good facilities. When I went to Mongolia for the first time in 2013, neither the kit was good nor the food was nice. I was told your federation did not give the money. Now, since Brij Bhushan Sharan sir is finding different sponsors for us and we are getting good facilities".
Another wrestling Olympian Narsingh Yadav from Varanasi tweeted, "WFI has always worked for the better of players and they are getting justice in the transparent working order of the president Brij Bhushan Sharan Singh".