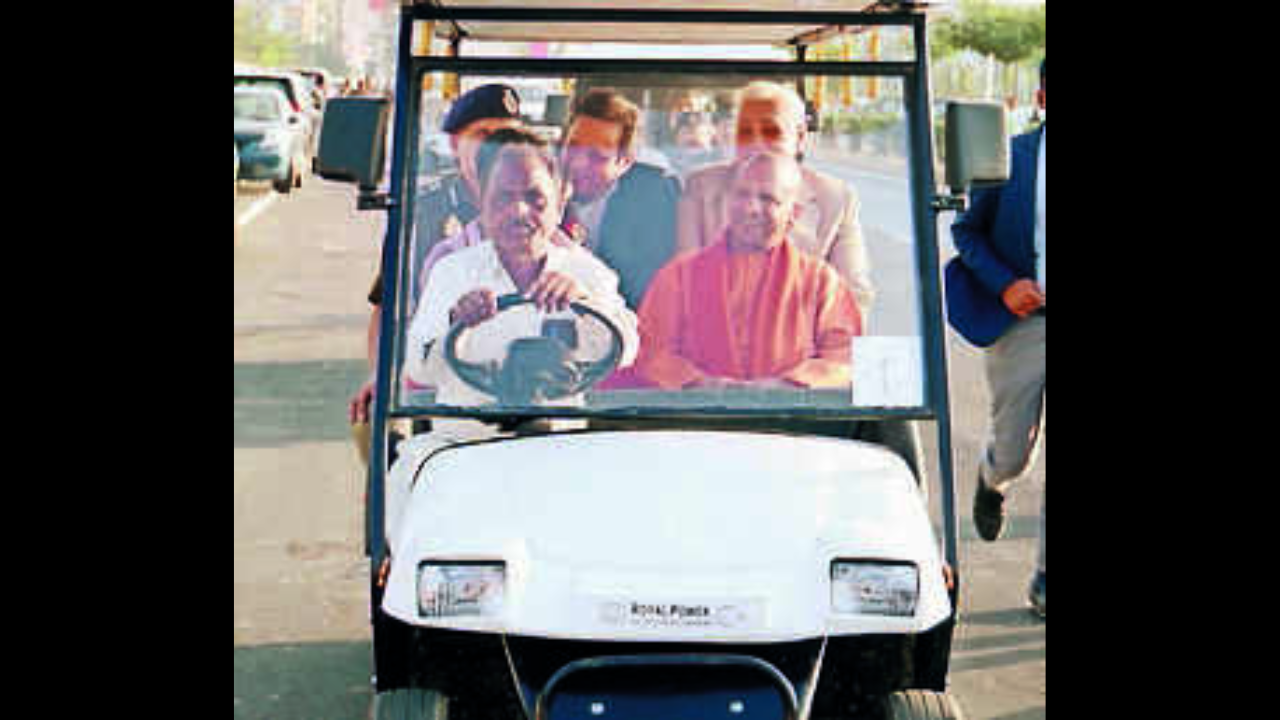 LUCKNOW: With less than a week left for the UP Global Investors' Summit 2023, Chief Minister Yogi Adityanath inspected the venue ground to review preparations and issue last-minute instructions here on Sunday
Speaking on the occasion, the CM said: "GIS 2023 would turn out to be a turning point in UP's development journey." Adding that the Vrindavan Yojana was set to witness a gala event, the CM directed officials to greet President Droupadi Murmu, PM
Narendra Modi
and other national and foreign dignitaries with utmost grace.
"The dignitaries must be received and attended with utmost grace," the CM said.
Enquiring about arrangements made for dignitaries coming for the UP Global Investors Summit-2023, CM Yogi specifically enquired the officials about the movement, seating and other facilities for VIP guests and investors, including President Droupadi Murmu and Prime Minister Narendra Modi .
Joined by industries minister Nand Gopal Gupta Nandi, chief secretary Durga Shankar Mishra, principal secretary, home, Sanjay Prasad, and DGP Devendra Singh Chauhan, the CM took a round of every block at the venue. To note, more than 10,000 people are expected to attend the threeday event that begins on February 10.
Senior officials from the industries department, including additional chief secretary Arvind Kumar, Invest UP CEO Abhishek Prakash, his deputy Prathmesh Kumar, and district administration, including divisional commissioner Roshan Jacob, were also present.
The CM walked through the pandals named after great sages, including Atree, Vashistha and Dadhichi, besides looking at the artworks done in the region. Officials said that a food court has been set up adjacent to this block along with a VIP lounge, and lounges for partner countries, industry and knowledge partners.
The adjacent block containing four hangars will host sectoral discussions attended by delegates from across India and even overseas. The CM also visited the media centre being set up in the third block, from where live telecast of the program will be done. The office of Invest UP has been set up in the block. At the same time, a police control room has been set up to monitor every step.
The fourth block has been prepared for the pre-function, where various cultural activities will take place while the fifth block is being prepared for the drone show.
The sixth block is being prepared for B2B meetings, where investment proposals and MoUs will be finalised. Along with this, fire, safety and medical zones are being prepared here, so that any emergency situation can be dealt with immediately. After all the three zones are ready, a reality check will also be done.
At the same time, the seventh and last block is being prepared for the exhibition, which will have a total of 11 halls